Filmland Germany
Oscar winner, the biggest film festival and the sound of blockbusters: Germany has a lot of cinema superlatives to offer. Ten facts.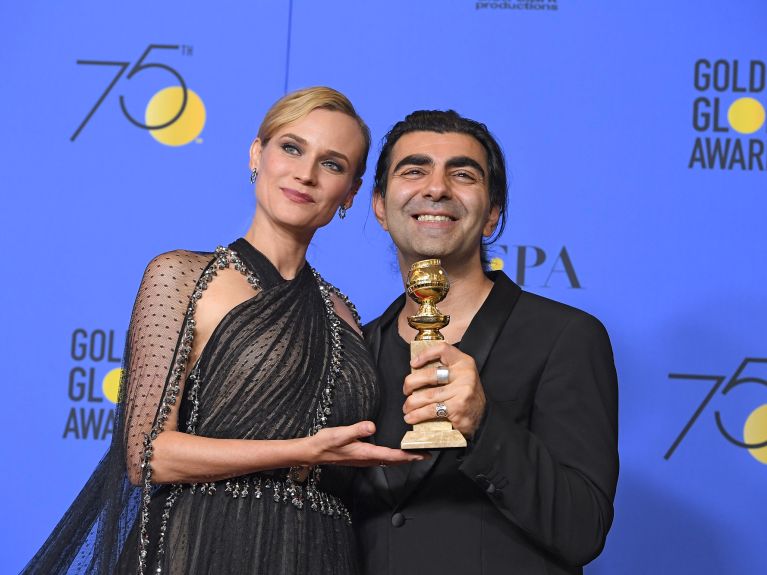 Biggest film festival
The Berlinale is the largest public festival in the world and had almost 500,000 visitors in 2017.
Most successful movie of 2017
Fack ju Göhte 3 with Elyas M'Barek was the most successful feature film of 2017 in Germany. The last part of the film trilogy attracted nearly six million viewers into cinemas. 
Most viewed German movie
The most successful German film since 1965 is Der Schuh des Manitu (i.e. The Shoe of Manitu) (2001). Almost twelve million moviegoers laughed at the Western comedy by Michael Herbig. 
Most successful German film in the US
The most successful German film in the US is Das Boot (The Boat) (1982). The submarine drama by Wolfgang Petersen grossed nearly twelve million dollars. 
Oscar winner 
Das Leben der Anderen (The Lives of Others) won the 2007 Oscar for Best Foreign Language Film. The feature film debut of Florian Henckel von Donnersmarck is a critical reckoning with the GDR. 
Most successful German Hollywood star
Diane Kruger is the most successful German actress in Hollywood. She has now acted for the first time in a German film: Aus dem Nichts (In the Fade) by Fatih Akin was awarded a Golden Globe
Largest film studio in Europe
The Babelsberg Studio near Potsdam is the oldest large-scale film studio in the world and the largest film studio in Europe. Marlene Dietrich shot films here. Recent successful productions include The Bourne Ultimatum and Inglourious Basterds. 
Renowned film school
According to the Hollywood Reporter, the Film Academy Baden-Württemberg is one of the 15 best film schools in the world. The Ludwigsburg Academy scores points with its own institute for animated film. 
Excellent animators
The Frankfurt company Pixomondo is one of the leading international companies for visual effects. Pixomondo won an Oscar in 2012 for its collaboration on Martin Scorsese's Hugo Cabret.
World famous film music
The Frankfurt-born composer Hans Zimmer is one of the world's most famous film composers. He has been nominated for an Oscar ten times.