The same starry sky
The German-Israeli creative festival is all about losing and finding again, sharing the same sky and having a joint future.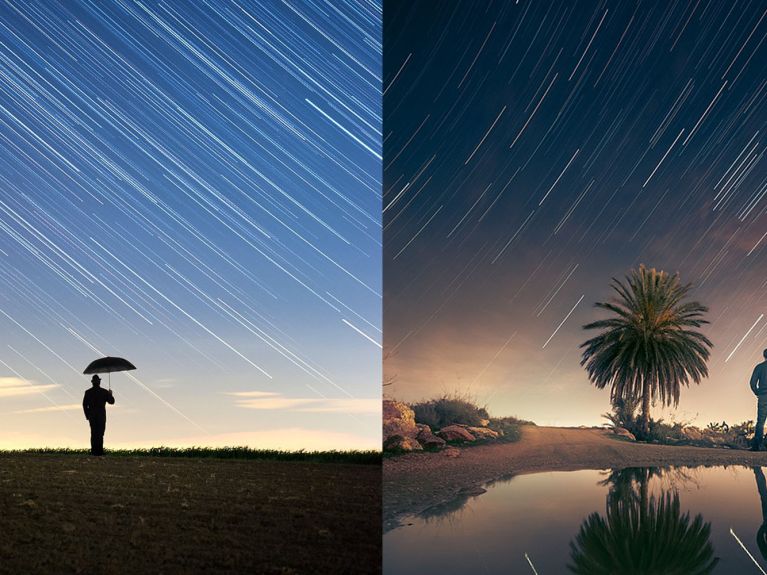 Who wouldn't dream of marvelling at the starry skies over Israel, enjoying a first date with a romantic dinner at a hotel, or taking part in a high-energy dance class? Coronavirus has put paid to many of the nicer things in life, however. The digital "People to People Playground" festival organised by the German-Israeli Future Forum (DIZF) is now making all of this possible nonetheless – virtually, at least. The international virtual festival continues until 7 May, giving cooperation partners from Germany and Israel the chance to experiment together and put creative ideas into practice. Every day there are drama courses to take, podcasts and photo exhibitions to explore and workshops to attend. All of the festival projects involve representatives of both countries. "We called the festival the 'People to People Playground' because the idea is to enable a fun and creative exchange despite coronavirus", says the organiser Tal Alon. "That's why we decided, when travel became a major challenge, to award grants of up to 1,000 euros for digital creative adventures, and the response was overwhelming."
Cultural exchange through German-Israeli creative adventures
The festival began with a relaxed living-room party that taught viewers how to find their rhythm even on not so groovy days. The German-Israeli photo exhibition "Under the same starry sky" is about the things we have in common. "All people live in different countries with different languages, cultures and geographical conditions, but under the same starry sky. And despite the differences, we are all on a small planet in the infinite vastness of the universe", write the artists Evgeni Tcherkasski from Germany and Alex Savenok from Israel on Facebook.
Among the participants are also Johannes Frick from Germany and Ran Oz from Israel. Although they do not know one another and live over 3,000 kilometres apart, they will be embarking on their first date – live on Instagram – during the festival. "We have both booked a hotel room in our respective cities, and will get to know each other a bit better over dinner there", explains Johannes. And adds: "Nothing has to happen, but anything is possible". Love is no easy matter for many people, especially young people, during the pandemic. "It was the hardest time of my life, I became depressed and dating simply wasn't an option," says Ran, who lives in Tel Aviv. "At the end, the viewers will decide whether such a private moment can become art or whether it is egocentric artistic exploitation", says Johannes. It remains to be seen whether the two, neither of whom have ever visited the other's country, will end up meeting in real life. Johannes, who came up with the idea for this creative adventure, is not giving up hope: "Love can be found everywhere!"
To find something (again), you need to have lost it in the first place – which is exactly the subject of the digital workshop devised by Naama Berman from Tel Aviv and Michael Wehren, who lives in Leipzig. "The art of losing" is the title of the creative adventure that the two theatre actors came up with. "There are thousands of stories about finding something again that had been lost – be it a missing person, a lost treasure or simply one's car keys. And admittedly, 2020 was a lost year. A year in which people were – and indeed continue to be – confronted with the loss of human lives, as well as the loss of jobs, plans for the future and hopes," says the Israeli.
Their performance aims to find out one thing in particular: "While there is certainly an art of finding, 2020 and early 2021 have revealed an evident lack of any art of losing in popular culture, politics and our private lives," says Michael. "Together with the participants, we explore various aspects of loss and losing. We want to provide food for thought and to discuss, dream and laugh together to find out whether an art of losing is even possible." Naama wants to discover even more, however: "While loss is on the one hand a universal human experience, it is on the other also an individual experience that everyone deals with differently. We are interested in both the differences and similarities of this collective global experience."