"I'm just Cem"
Young Germans and Israelis discuss migration, diversity and identity.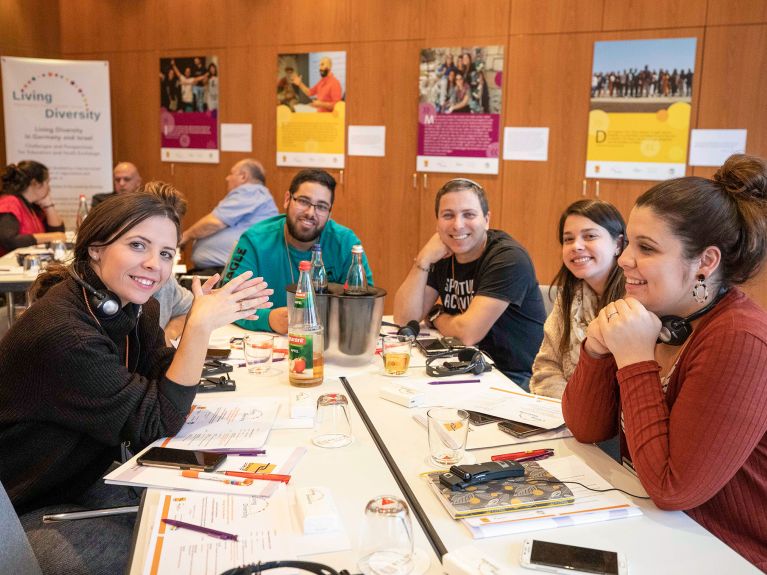 Who am I? Where is my home? And what is my identity? A stay in another country presents a good opportunity to think about questions like these. Your Story Moves! – Encounters between Young People in Migration Societies is a programme that was set up to ensure that youth exchange in Germany and Israel is and remains vibrant and diverse. Young Israelis and Germans met in various projects and discussed how Germany and Israel are affected by immigration and different religions and why joint youth exchange benefits from greater diversity. Above all, participants also aimed to advance a diverse and discrimination-sensitive form of educational work.
Your Story Moves! was initiated by ConAct, the Coordination Center for German-Israeli Youth Exchange, as part of a project called Living Diversity in Germany and Israel. It was funded by the Federal Ministry for Family Affairs, Senior Citizens, Women and Youth from 2015 to 2019 within the framework of the Live Democracy! federal programme and realised in cooperation with the Israel Youth Exchange Authority. It aimed to increase awareness of the diversity of cultural, religious and sexual orientations as well as physical and mental abilities.
Eighty of the participants from Germany and Israel met at the end of November 2019 during the project's closing event in Potsdam. Most had parents or grandparents who came from a different country. This – and the constant examination of their own identity – was something they all had in common.
"I came to Berlin in 2018 with an exchange programme. We visited different places – for example, the Gleis 17 Memorial at Grunewald Station for deported Jews. As a result, I now understand more about Germany's history. Germany is one of the countries that accepted the largest numbers of Syrian refugees. I had the impression that they were welcomed with open arms. I thought minorities were accepted. But people with Turkish roots told me they were often praised for speaking German so well, although their families have already lived there since the 1960s.
My own identity changes all the time. My family originally comes from North Africa. I grew up in France. At home we speak French. I arrived in Israel at the age of 23. Our people often move. Where you have lived and for how long is a frequent subject for small talk. Since I've only lived in Israel for five years, for a long time I just said that I come from France. But my French accent has grown weaker. That's why I now tell people where I live in Israel. I only introduce myself as a Frenchwoman when I travel to the West Bank. I'm afraid that Palestinians will like me less if I reveal I'm a Jew – because of the conflict that we have. I only tell someone I'm a Jew when I get to know them more closely.
I can really recommend coming to Germany with an exchange programme. You get to know different cultures. Many people have conflicts in their everyday lives that they consider unique and intractable. When they see how other people overcome their conflicts, it helps them to better deal with their own."
"Because I'm studying history, it was our excursion to Jerusalem that impressed me most during my exchange with the Bar-Ilan University in Tel Aviv. I was overwhelmed by how many different people and religions come together there. As a result of the stay I learned that Israeli society continues to be strongly influenced by migration. During the 1990s large numbers of immigrants arrived from the former Soviet Union, while now many people are coming from France. I can identify with these migration stories: my grandparents came to Germany from Istanbul in the 1960s. My father was a small boy then. He didn't learn with German children, but had to attend a class with children of Turkish origin. As a student teacher, I think about how I will talk to my future students about discrimination and human rights violations. I feel I have a responsibility to get these topics across in a way that moves the younger generation. Personally I don't like pigeonholes: I don't want to have to take a position on every issue that affects Turkey when I'm in Germany. Conversely, I am 'the German' when I'm in Turkey. There I have to say something on everything associated with Germany. I'm just Cem and I don't have to decide on a identity. I am influenced by different cultural and linguistic factors.
My faith is a very important thing for me. I'm an Alevite and therefore belong to a religious minority. We cannot develop in Turkey, the country of origin of our faith. But Germany has given us the chance to do that. That's also why I feel especially at home here."
"I always thought nowhere could be more diverse than Berlin. But Tel Aviv and Akko put me right on that. People from completely different countries and cultures have left their mark on these cities. I wanted to visit Israel for a long time – also because it's the location of the World Centre of the Bahá'í Faith, which interests me a great deal. In 2018, the exchange programme gave me the chance to thoroughly explore the Bahá'í Centre in Haifa and Jerusalem. I had one research question in my head the whole time: how is the religion reflected in clothing? I later wrote my master's thesis on the power of religious attire: how multifunctional is it in everyday life? One focal point of my work was on Hasidic Jews. If a man in Israel wasn't wearing a kippah, it was often impossible to recognise which religion he belonged to. In fact, however, that doesn't mean anything, because I want to accept people as they are. During the exchange, one woman told us that she was adopted. She said: 'If another family had taken me in, today perhaps I would be a Hindu or a Buddhist.' That made a great impression on me: who we are is also determined by coincidences and the influences of other people."
"Kiryat Malakhi, the town where I work, has been shaped by migration. People arrived there from other countries in each wave of immigration: they came from North Africa, from the former Soviet Union and from Ethiopia. Each of these groups has changed the town with their manners and their culture. My grandparents came from Romania; my parents were born in Israel. We celebrate Jewish holidays just like the Russian and Ethiopian ones. We are not the only ones; a very large number of people in Israel have taken on these traditions. I'm very interested in the culture and origin of the people around me. That's why I naturally immediately wanted to take part in an exchange programme that focused on diversity. As a result, I travelled to Dortmund in 2018. I liked the city very much, and I had a lot of fun with the German participants. I'm still in touch with some of them today. In Dortmund I got to know different organisations that look after the needs of migrants. Immigrants from all corners of the world have left their mark on the city. Just like Israel."
German-Israeli youth exchange has been taking place for over 60 years. Some 350 exchange programmes are now organised between the two countries every year. Since 2001, they have been initiated and supported by ConAct, the Coordination Center for German-Israeli Youth Exchange, which is based in Lutherstadt Wittenberg.
You would like to receive regular information about Germany? Subscribe here: