How Germany Supports Professional Artists
You went to art school. You were inspired. You created. You networked. And then you graduated. Now what? Worried about becoming a starving artist? Where professional artists can find support in Germany.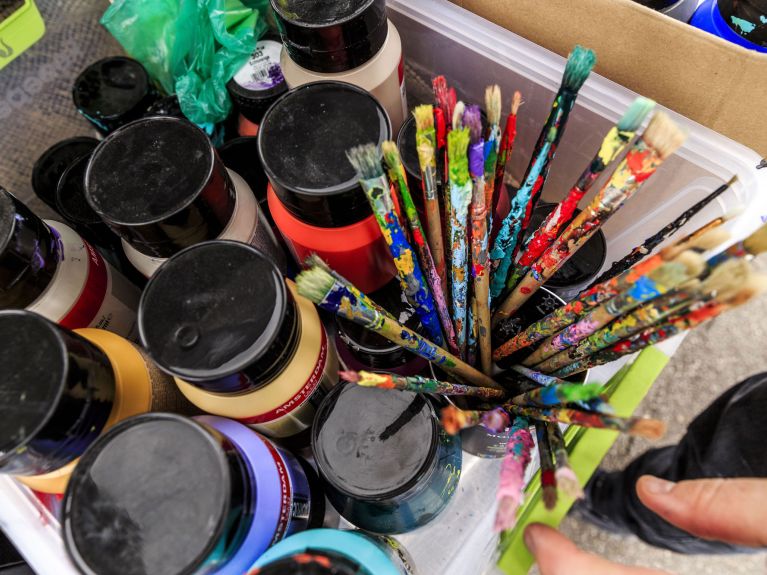 No matter how excellent or inspiring your time in art school was, finding a fulltime job afterwards is not always easy—"starving artist" is a household phrase for a reason.  In Germany the situation is no different for many art school graduates who find themselves juggling multiple freelance or part-time opportunities in the creative industries, but artists living in Germany can also count on a lot of support.
Berlin and beyond
Berlin, Cologne, and Leipzig are all cities that have a rich concentration of art galleries, many with a focus on international contemporary art. Berlin is also well known within the international art scene for its commercial galleries. Important collectors from around the globe travel there to buy, so it is an ideal place for a young artist to have gallery representation. There are also numerous smaller private collections and foundations around the country, many of which sponsor fellowships or competitions for artists.
The cheap rent and big spaces well-suited to studios or performance spaces in Berlin also help make working as a self- or semi -employed artist in the city possible.  But the State support available for artists in Germany has no doubt played a role of its own.
State assistance
Many people who work in the creative industries receive financial assistance from the German government. If you have a degree from an art school you are officially deemed a "professional" artist, which means that applications for artistic grants and scholarships count as job applications, which are necessary to continue receiving benefits from the state.
Self-employed individuals are usually not covered by the state-regulated health insurance plans and need to shoulder the cost of private insurance on their own. However, self-employed artists are covered by a specific social insurance system, the "Künstlersozialkasse" (KSK), which entitles them to a 50 percent reduction in insurance fees.
Every big German city has museum collections with permanent and traveling exhibitions, and museums offer plenty of employment opportunities for artists, from part-time work installing exhibitions to permanent roles as registrars, organizing the transport of a museum's artworks for exhibitions and looking after the work in the collection. In addition to the big museums, there are a large number of exhibition spaces where emerging artists can stage exhibitions of their work for public viewing, as well as many excellent commercial art galleries that help launch artistic careers and offer another venue for seeing great art.
Residencies, scholarships, and grants
Many professional artists can find short- or medium-term employment as Artists in Residence and work for a set period of time in a cultural institution. There are also plenty of sources for funding in Germany for artists, and many well-run websites to help identify sources of financing.
From financing for specific artistic projects to grants, the Stiftungssuche.de is a good place to start. The German government also awards grants through various funds, including the Art Fund and the Performing Arts Fund. The International Association of Art in Germany (IGBK) works as a lobby organization to improve the status of the artist in legal, social, and political terms.
All in all, there is a huge range of opportunities for art students and professionals in Germany. The fact that the country is a federal system means that the concentration of art schools, museums, and funding for the arts can be found all throughout the country in the different regions, not just in one main area. Unlike the old days, when Paris was the single art capital of France, Germany boasts numerous artistic centers--and numerous sources of inspiration.