Protecting the voices of independent media
Initiated by Germany's Federal Foreign Office, the Hannah Arendt Initiative provides protection and help for at-risk journalists.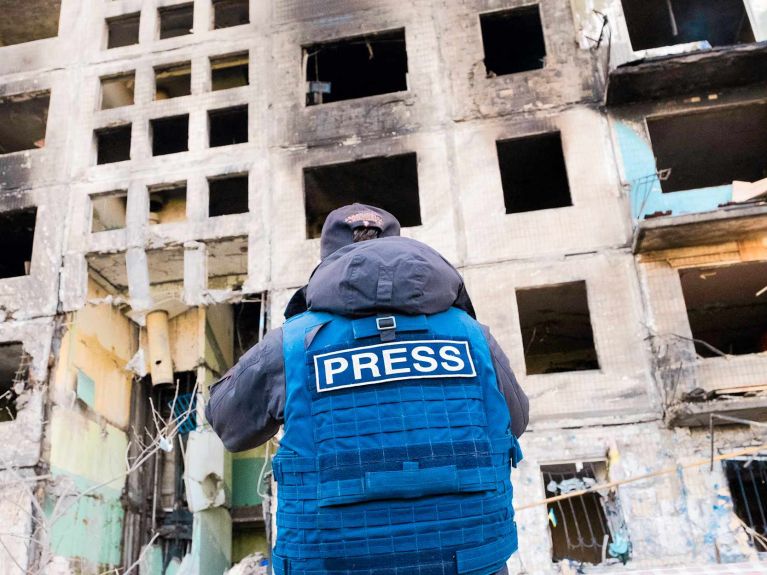 "My work as a journalist helps moving forward, for me personally and for all Ukrainians. Everyone has the right to receive fair information and the possibility to analyse this information," is what Ukrainian journalist Khomina Daria is quoting as saying on the website of the Hannah Arendt Initiative. The initiative, which is supported by Germany's federal government, has been offering at-risk media professionals protection and practical help with their work since 2022. Run by civil society organisations, the network is currently targeting primarily media professionals from Ukraine, Russia, Belarus and Afghanistan. 
Network for at-risk journalists 
"Free journalism is the best antidote to human rights violations and the abuse of power," Germany's Foreign Minister Annalena Baerbock declared when the initiative was established. She added that journalists were "all too often persecuted, arrested, beaten up and murdered for their work". These "courageous people" need "safe havens, employment opportunities and support", believes Baerbock. She described the Hannah Arendt Initiative as "an emergency programme for media workers and journalists offering tangible protection and support measures". Germany'sFederal Foreign office is providing funding for the programme.  
The network's partner organisations include the DW Akademie, which is the Deutsche Welle's centre for international media development and journalism training, and the European Fund for Journalism in Exile. Many journalists often have no choice but to flee in order to continue reporting independently in exile. 
The partner organisations play a key role in the initiative's work. This is because the programme is based on the principle of state neutrality. Independent juries decide on funding and the state is not allowed to exert any influence. 
Help for independent reporting in exile 
Journalists are supported with grants, equipment or training. For example, the European Centre for Press and Media Freedom provided emergency grants for Ukrainian media professionals as part of the "Voices of Ukraine" project. In its turn, the DW Akademie made grants available to Russian and Belarusian journalists within the framework of the "Space for Freedom" programme.