The secondary exploiter
On the trail of hype: why Michael Riedel is one of the most sought-after artists of his generation in Germany.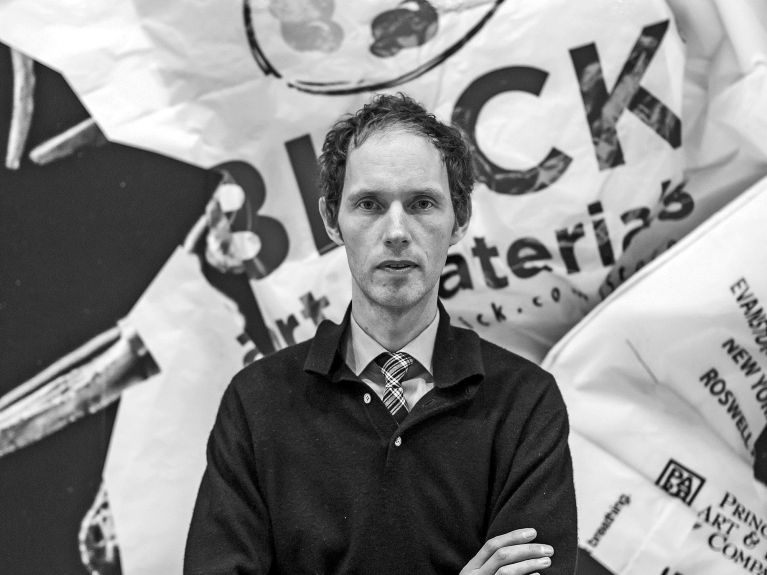 Germany. The Frankfurter Allgemeine Zeitung described Michael Riedel as a "systems theorist among artists", the New York Times gave him the title of "The Copycat", the Saarbrücker Zeitung called him a "virtuoso of reproduction". Which description comes closest? An approach to the concept artist born in Frankfurt in 1972.
Where does the hype surrounding Michael Riedel come from?
Riedel recently came into the spotlight of broad public attention when he, together with an architectural office, designed the extension of the Moderne Galerie in Saarbrücken. He covered the façades and grounds with a 4,000 square metre text image. As "raw material" Riedel chose the transcription of a debate of the Saarland State Parliament on the construction project. Now the new museum reflects its own genesis - and Riedel has created one of the largest works of art in public space in Germany.
What is his concept?
Since 2017 Riedel has been Professor of Painting and Graphics Arts at the HGB Leipzig. During his studies at the Düsseldorf Art Academy, the École Nationale Supérieure des Beaux-Arts in Paris, and the Städelschule in Frankfurt, he developed the artistic concept of creating new works from existing material. He filmed films and he recreated exhibitions. He always harked back to existing things and created a second work from them.
What is Michael Riedel's philosophy?
Riedel explained his concept to Art Magazin: "Quite in the classical sense, I wanted to do something that nobody appreciates. I wanted to demonstrate indifference to originality. [...] Reproduction is an innate technique of art. Every image is a reproduction."