Entdecke DE: Perfect Climbing Locations
The "Entdecke DE" series takes you on a tour through Germany, this time to perfect climbing locations.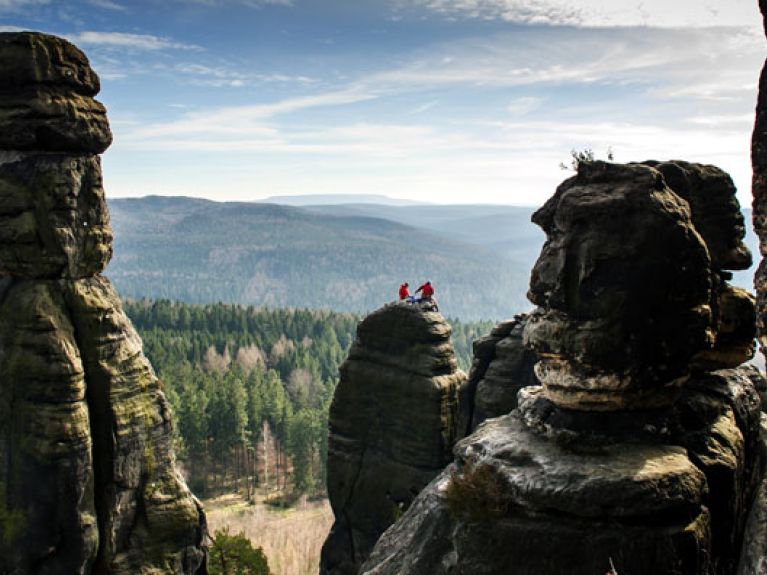 Climbing is all the rage these days. Many of those embarking on a quest for exciting climbing routes hope to experience nature in all its breath-taking glory. There is a wide range of perfect climbing locations in Germany – from the Central German Uplands to the Alps, offering different levels of difficulty.
The origins of free climbing
In the southeast of Germany, around 50 kilometres from Dresden, climbers are drawn by the bizarre shapes of the sandstone formations. Here, in the Elbe Sandstone Mountains in an area dubbed Saxon Switzerland, there are around 1,100 freestanding sandstone rocks. This is where free climbing is thought to have originated in Germany, ever since gymnasts from Bad Schandau climbed the Falkenstein in 1864. Sheer rock faces, crevices, chimneys and overhangs – often with views of the Elbe river – offer real challenges.
www.saechsische-schweiz.de/urlaubsthemen/aktivurlaub/klettern.html
Routes galore in Franconia
The Frankenjura in the region between Bamberg, Bayreuth and Nuremberg is well worth a trip on account of its abundance of climbing routes. Many of the well-known climbing areas such as the Hirschbach Valley and the rocks around Betzenstein and Königstein are situated in the Frankenpfalz region. In Pegnitz Valley, the peaks of the Riffler and the Student are just as enticing for climbers as the massive rock faces of the Roter Fels and the Ankatal face.
Small but exquisite
Teutoburg Forest is an upland region of up to 450 metres situated between Osnabrück, Münster and Bielefeld. Climbing rocks in the north of Germany are few and far between, but the Dörenther Cliffs are a paradise for sports enthusiasts. The sandstone rocks are not particularly high, with a maximum rock face height of 20 metres, but they provide some great routes for those wishing to climb without a rope and harness.
www.bergfreunde-ibb.de/klettern
Climbing paradise, even for beginners
Garmisch-Partenkirchen at the foot of the Zugspitze offers some attractive climbs not only to experts in alpine climbing but also to beginners. At Blaueishütte beneath the Hochkalter, a training area can be found that offers well-secured climbing parks as well as long and short climbing routes. The chance to practise techniques while training with a mountain guide is an excellent way of getting started with alpine climbing.
www.blaueishuette.de/touren/sportklettern-und-bouldern
International Trade Show for Fitness, Wellness and Health (FIBO) from 9 to 12 April 2015 in Cologne