Floating wind turbines
Siemens is supplying wind turbines for the world's largest floating wind farm.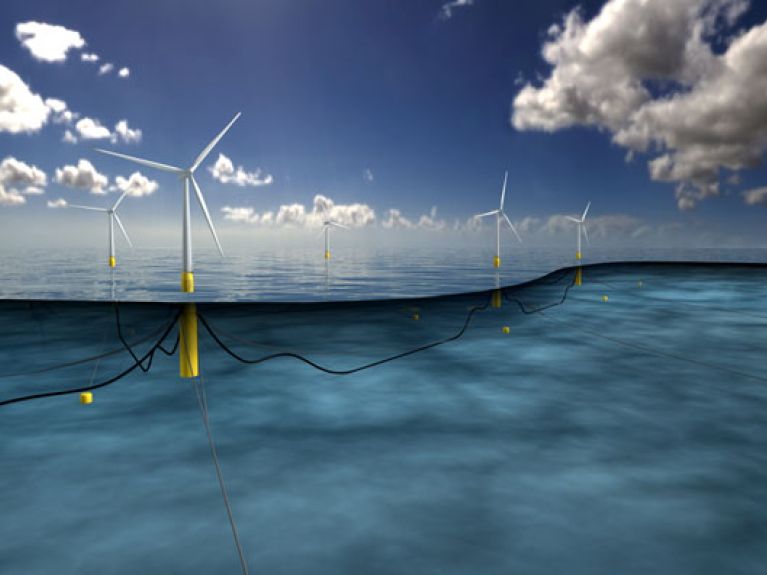 December 2015 saw wind power become Germany's leading source of electricity generation for the first time – ahead of lignite, coal and nuclear power. This was due to the huge expansion of wind farms – especially offshore. After all, nowhere does the wind blow more strongly than at sea.
German technology giant Siemens recognized this potential some time ago and decided to specialize in building floating wind turbines. The advantage of floating turbines over bottom-mounted systems is that they can be installed at greater water depths. They can also be fully constructed in port and then installed on site once complete. This means less noisy construction work and thereby reduces the burden on marine flora and fauna.
In cooperation with the Norwegian oil and gas corporation Statoil, Siemens installed the "Hywind Demo", the world's first floating wind turbine system, in 2009. Situated twelve kilometres off Norway's southwest coast in the Atlantic, it is fitted with a 2.3 megawatt Siemens wind turbine. "Hywind supplied 10.1 gigawatt-hours of electricity in 2011. A turbine sited at a favourable onshore location only just manages six gigawatt-hours", says Per Egedal, head of the technology department at Siemens Wind Power.
World's largest floating wind farm off the northeast coast of Scotland
Now Siemens is embarking on its next project with Statoil: from the end of 2017, "Hywind Scotland" – the world's largest floating wind farm – is set to generate around 135 gigawatt-hours of power every year off the northeast coast of Scotland. To this end, the German company will be supplying five direct-drive offshore wind turbines, each with a capacity of six megawatts. Siemens describes "Hywind Scotland" as a ground-breaking project that could pave the way for future floating wind farm projects.