Not a chain that is easily broken
Patricia Espinosa, head of the UN climate change secretariat, says there is a great commitment to climate protection worldwide. Nevertheless, there is also resistance.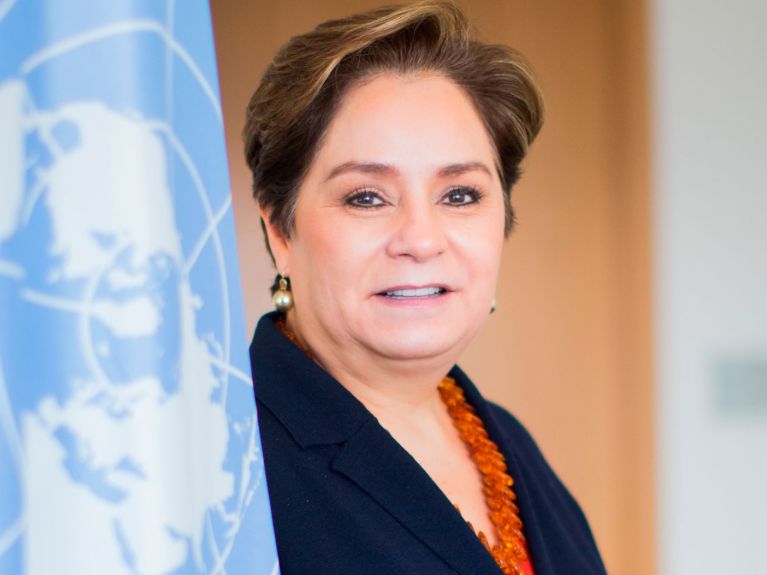 The Paris Agreement is still considered the major breakthrough in international climate negotiations. What outcome do you hope to see at the COP 23 in Bonn?
COP 23 needs to significantly advance on the establishment of the "implementation guidelines" that can ensure the Paris Agreement is fully operational. Countries also need to map out how, in 2018, they will take stock of where they are and where they need to go to collectively get on track to meet the Agreement's aim of keeping a global temperature rise well below two degrees Celsius this century. The recent extreme weather events that have devastated lives and livelihoods in the Eastern Caribbean and elsewhere have also underlined the urgency of assisting vulnerable populations to cope with these extremes.
There has been some irritation recently with regard to the position of the United States. Are you optimistic about keeping them as a partner?
The announcement by the President of the United States in May 2017, saying that his administration would withdraw from the Paris Agreement, was disappointing – but we continue to work with the US to advance climate action. And certainly, enthusiasm and solidarity among so many nations remains high with country after country ratifying the Agreement and many advancing on their national climate action plans across areas such as renewable energy, smart agriculture and sustainable transport. So, the Agreement is not a chain, easily broken, but a web of ever deepening and widening strength.
What role will Germany play in the COP?
As the host of COP23, the UN climate change secretariat salutes Germany for its extraordinary logistical and financial support that has made the conference possible. The conference will be presided over by the Prime Minister of Fiji, so Germany has no special, formal role per se. But Germany will be showcasing its remarkable efforts at home and abroad to fast track climate action while perhaps bringing new initiatives forward such as in the area of better insurance for vulnerable nations.