Working for peace and justice
Germany is globally active in support of sustainable development. We outline three best-practice projects.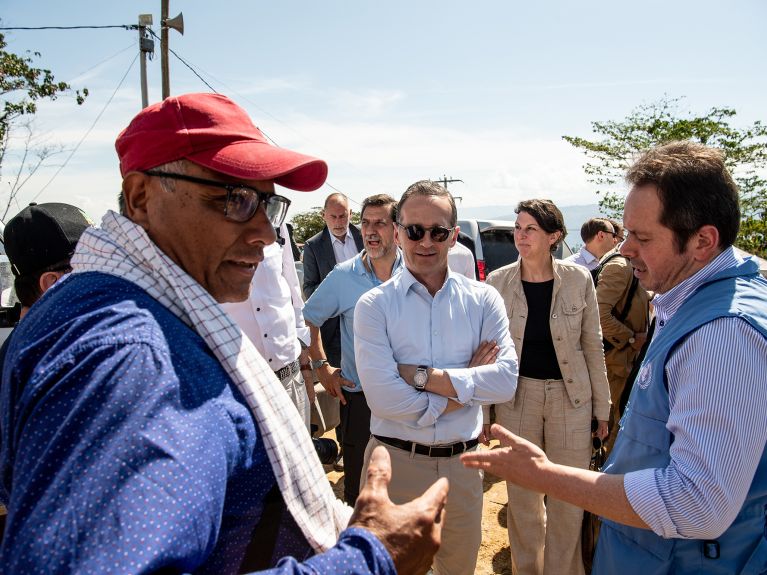 The 16th UN Sustainable Development Goal (SDG 16) – Peace, Justice and Strong Institutions – is of central importance to Germany's global commitment.
Securing peace in Colombia
For example, Germany is supporting the peace process in Colombia after an over 50-year civil war between armed forces, guerrilla groups and paramilitaries. The Federal Foreign Office supports the International Center for Transitional Justice in building interim judicial structures and reintegrating former rebels into society.
Developing the rule of law in Ukraine
Germany is helping Ukraine to develop a stable constitutional state based on the rule of law. The German Foundation for International Legal Cooperation (IRZ) advises the country on its judicial reform and the professional qualification of judges.
Clean water for all
All human beings are to have access to clean drinking water and sanitation by 2030. That is the 6th UN Sustainable Development Goal. The German Sustainable Development Strategy envisages ten million people gaining access to clean drinking water every year until 2030 with German assistance. When it comes to development cooperation, Germany is the world's second largest donor in the water sector.
Let's take a closer look at the example of the Central Asia Water Initiative (Berlin Process). In the countries neighbouring the Amu Darya and Syr Dayra rivers, excessive water extraction by individual states for cotton farming and energy production combined with crumbling infrastructure is generating water shortages and conflict potential.
On the initiative of the Federal Foreign Office, the Gesellschaft für Zusammenarbeit (GIZ) is supporting Kazakhstan, Kyrgyzstan, Tajikistan, Turkmenistan and Uzbekistan in the development of a sustainable and equitable regional water management system.
Other German best-practice examples for the 17 SDGs
 
More information about German sustainable development policy
 
You would like to receive regular information about Germany? Subscribe here: