Where can you study artificial intelligence?
Shape the future! Here you will find an overview of degree programmes and AI research institutes in Germany.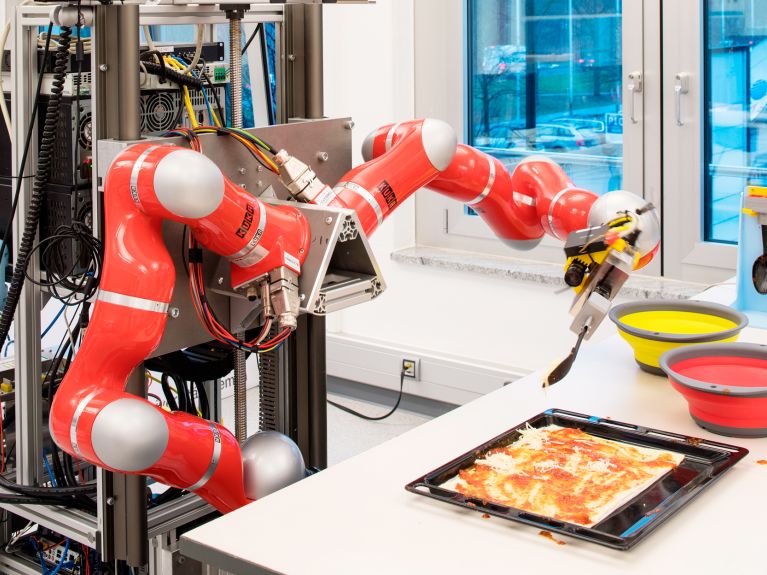 Would you like to program virtual assistants and robots as everyday helpers, teach machines to learn or make autonomous vehicles fit to drive on roads? Artificial intelligence (AI) is one of the most important technologies of the future. AI experts are sought-after worldwide.
Humanoid robotics in Berlin
The new Bachelor programme in humanoid robotics at Beuth University of Applied Sciences in Berlin is unique in Germany. If you study here, you will not only learn to design robots, but also to program their behaviours and learning capabilities. In addition, you will consider the ethical, legal and social aspects of operating a robot.
Beuth University of Applied Sciences: humanoid robotics
Robotics, cognition and intelligence in Munich
Technische Universität München (TUM) offers an interdisciplinary Master programme in robotics, cognition and intelligence that combines mechanical and electrical engineering with informatics. Teaching is carried out in German and English.
Applied artificial intelligence in Offenburg
Offenburg University offers a Bachelor programme in applied artificial intelligence that lasts seven semesters including a one-semester practical internship. The full-time degree course is taught in the German language and presents a complete package covering the theory and practice of the development and use of AI applications.
Data science
You can also acquire core competencies in the development of AI systems as part of a degree programme in data science. The study of mathematics, informatics and statistics will enable you to deal with big data. Ludwig-Maximilians-Universität München (LMU) is the first German university to offer an English-language programme leading to an MSc in data science.
You will find an overview of all German higher education institutions offering courses in data science here: Higher Education Compass: data science
AI research institutes in Germany
German Research Center for Artificial Intelligence (DFKI) The DFKI is Germany's leading business-related research institution in the field of artificial intelligence. It has centres in Kaiserslautern, Saarbrücken and Bremen.
Cyber Valley The Max Planck Institute for Intelligent Systems, the Universities of Stuttgart and Tübingen, the Fraunhofer Institute, and major companies such as the Mercedes Benz Group, BMW, Porsche, IAV, Bosch, ZF Friedrichshafen, and Amazon are all participants in Europe's largest AI research consortium. In it, top international teams conduct research primarily on machine learning and autonomous robotics. The University of Tübingen is offering Germany's first master's degree program in machine learning. The Graduate School for Intelligent Systems IMPRS-IS has well over 200 advanced students.
Munich School of Robotics and Machine Intelligence (MSRM) This interdisciplinary institute was opened at Technische Universität München (TUM) in October 2018. Its main areas are work in the future, health and mobility.