"We promote worldwide cooperation"
Berlin has become a base for developing solutions to combat pandemics. An interview with Chikwe Ihekweazu, head of the Hub.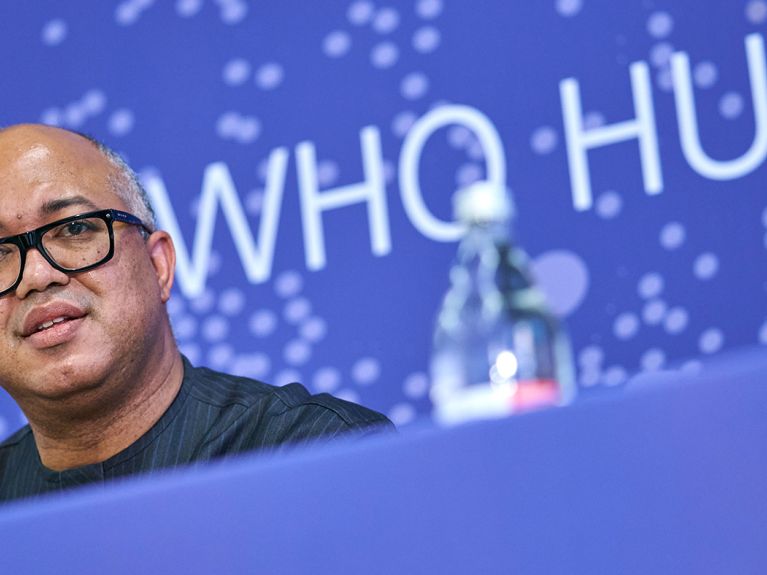 Dr Ihekweazu, what are the central tasks of the new Hub?
The mission of the WHO Hub is to build a system of collaborative intelligence enabling better decisions to avert and manage pandemic and epidemic risks. The WHO Hub will foster collaborations across the world to use the best technology and data to detect and understand risks about future epidemics and pandemics.
How does the Hub work?
The WHO Hub will strengthen pandemic and epidemic intelligence through better data, better analytics and better decisions across all aspects of public health emergencies at national and local levels. As a global collaboration of partners from multiple sectors, the WHO Hub will enable innovators to co-create tools and use linked data that all countries need to prepare, detect and respond to pandemic and epidemic risks. The WHO Hub will drive innovations to increase the availability and linkage of diverse data, develop tools and predictive models for risk analysis, improve public health decision-making and monitor disease control measures and infodemics.
Why did the WHO choose Germany or Berlin as its location?
Berlin has a vibrant research, science, education, innovation and civil society ecosystem. It is located in the heart of Berlin at Moritzplatz in Kreuzberg and will include a physical space for people to work together on projects and initiatives.
The WHO Hub's two foundational partners in Berlin – the Robert Koch Institute, Germany's national public health institute, and Charité-Universitätsmedizin Berlin – are recognised globally and will connect the Hub with numerous key initiatives in both institutions.
What experience from your work for the Nigeria Centre for Disease Control will you particularly benefit from in your new role in Berlin?
My work at the Nigeria Centre for Disease Control involved the development of new systems and structures for health security as well as capacity building. This involved a lot of learning, networking, collaboration and trust building. I am honoured to take this work to the global level and to build a global collaborative Hub that improves pandemic intelligence for the benefit of every country and every community.