Five tips for studying during corona
It is possible to study successfully even during the corona pandemic. These tips will definitely help you overcome the challenges.
Sabine Buchwald / 22.10.2020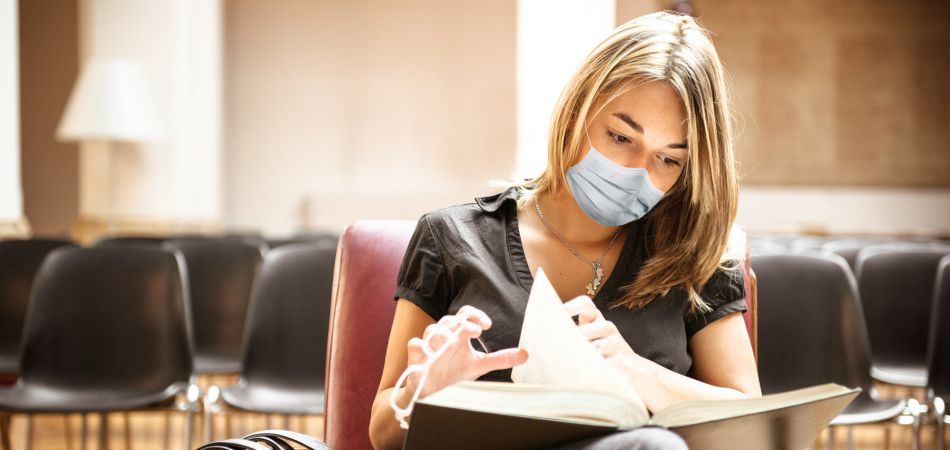 Universities in Germany are launching what are known as hybrid semesters as term starts once again during the corona pandemic. Most lectures and seminars are taking place online, though some face-to-face classes are also being held for small groups. These tips will help you overcome the challenges during your course of study.
1. Remember that all students are in the same boat just now. And your tutors are also having to get used to the new situation. If you have any questions, look online, as all universities have posted key information on their website. The student advice centre can answer your questions, as can your faculty's hotline, the student body in your department or their representatives. Contact them. They can also put you in touch with fellow students with whom you can learn together. 
2. Look after your equipment: Studying online will of course only work if you have a computer, laptop or tablet. Your devices need to function perfectly. Many universities can also lend equipment to students. Contact your student body for help. 
3. Don't miss out on anything. Many universities update key information on their website – so it is worth checking in regularly. You will need up-to-date access data to log into a learning platform such as Moodle. Some seminars and lectures are compulsory. You can also ask questions during such live events. Non-live offerings include teaching videos and worksheets on the learning platform. You can largely decide for yourself when to work through these. That is one major benefit of digital teaching.
4. Set up a workplace at home where you feel comfortable. Put out everything that you might need during an online class: headphones, charging cable, pens, paper, drinks and a snack. Don't allow anything to distract you during your online lecture or seminar: switch your mobile phone to silent, or ideally put it out of sight in a drawer.
5. Give your day some structure when working from home. Plan your day and write to-do lists. The best idea is to deal with the less pleasant things first. Give yourself time to take some exercise and have lunch. Whatever you do, go outside and get some fresh air, if that is permitted where you live. And if you feel lonely, make a date with friends or fellow students for an online chat.
You would like to receive regular information about Germany? Subscribe here: