A project to overcome polarization
German-American university chancellor Daniel Diermeier talks about the Vanderbilt Project on Unity and American Democracy.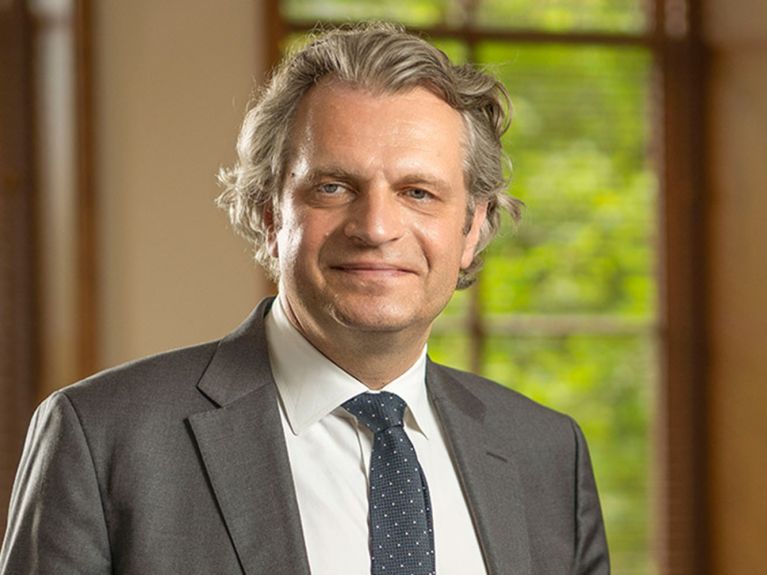 Daniel Diermeier, a German-American political scientist, business school professor and university leader, has been chancellor of Vanderbilt University in Nashville, Tennessee since July 2020; previously he had held the position of provost at the University of Chicago for four years. At Vanderbilt University, Diermeier is involved in the Vanderbilt Project on Unity and American Democracy. The initiative has set itself the goal of overcoming political and societal rifts in the US. Former Republican Governor of Tennessee Bill Haslam co-chairs the project along with faculty members Samar Ali—an expert on the intersection of national security and international economic development and a White House Fellow during President Barack Obama's administration—and Jon Meacham, a renowned historian and Pulitzer Prize-winning presidential biographer.
Professor Diermeier, you helped launch the Vanderbilt Project on Unity and American Democracy. Which goals do you hope to achieve with the project?
The project started right around the time of the last presidential election. It was really the brainchild of Jon Meacham, presidential biographer and distinguished historian at our faculty. Troubled by the experience of a very polarized election, Jon Meacham, Vanderbilt University's Dean of Arts and Science John Geer and I asked ourselves: What can we do as a university to overcome such tremendous polarization? We agreed that we can do a couple of things: we can focus on education and research of course, but we can also bring people together. At Vanderbilt University, people can convene and have conversations about challenging topics, always with the sense that the values of open discussion, rational argument and focus on data will be front and center. It became clear that we wanted to pursue the Vanderbilt Project on Unity and American Democracy as an initiative that would last for several years. We worked hard to launch it right before President Biden's inauguration. Before that, of course, the storming of the capitol on January 6 revealed the extent of polarization in the US.
Which kind of activities are you focusing on?
We want to have candid, serious conversations about important topics that affect our country and about solutions that can be supported by a broad section of the public. We started out with a discussion on the redemptive power of reason and evidence in American politics with former Vice President Al Gore and Jon Meacham, followed by a presentation of our project's first case study by former Secretary of State Condoleezza Rice—an examination of the role played by facts and data in securing bipartisan support for the creation of the President's Emergency Plan for AIDS Relief (PEPFAR). We want to discuss in detail both historical cases and current issues where solutions could be found that bring together people from different parts of the political and ideological spectrum. And, of course, we want to involve research, with case studies and research briefs that our faculty and others contribute when looking at some of the most challenging issues we are facing in our country.
What makes Vanderbilt University the appropriate home for this initiative?
In more than one sense we are in the middle of the country. We are located in Nashville, which is ruled by a Democratic mayor, but the state is Republican. We are a blue city in a red state. Tennessee has a history of very pragmatic leadership both at the gubernatorial and the mayoral level. Traditionally, people have always come together here to resolve issues, for example in education, but also in attracting foreign investment to Tennessee. Historically speaking, Nashville and Vanderbilt University played a very important part in the civil rights movement, which serves as an example of how the country can overcome highly challenging difficulties and deep divisions.
In your opinion, what is the value of the project from a European and German perspective?
I believe that the phenomenon of polarization can be observed in many countries. Particularly in the US, but also in Latin America and in Europe, where Brexit is perhaps the most dramatic example. In France it was seen in the movement of the yellow jackets, and in Germany in the intense debates that have been sparked by coronavirus policies. Polarization manifests itself in different ways in all these countries, but more fundamentally we have to deal with the massive disruption of the global economy that has been driven by globalization and dramatic technological progress, which has unsettled and destroyed existing structures.
What are your thoughts on the transatlantic relationship between Germany and the US?
I grew up in Berlin and have very vivid memories of my grandparents telling me about the enormous role the United States played during the Berlin Blockade by the Soviet Union and how the US Air Force supported the people of West Berlin. I recall the American presence in Berlin as being something enormously positive. I was also in Berlin when the Wall fell. That really changed the way I thought about the importance of political institutions. I believe that the community of values between the United States and Europe is essential. NATO, for example, is only the military expression of this community. I have been troubled by the stresses that the transatlantic relationship has come under in recent years, but now I am very confident that the transatlantic ties will be strengthened again. Let us also not forget that Germany is the economic powerhouse of the European Union. A strong relationship between the United States and Germany is very much in the interests of both countries.