Information about school and education
Anyone who wants to find out more about the German school system and educational policy will find all the information they need at these portals. Teachers will also find new teaching material and interesting ideas to liven up their lessons.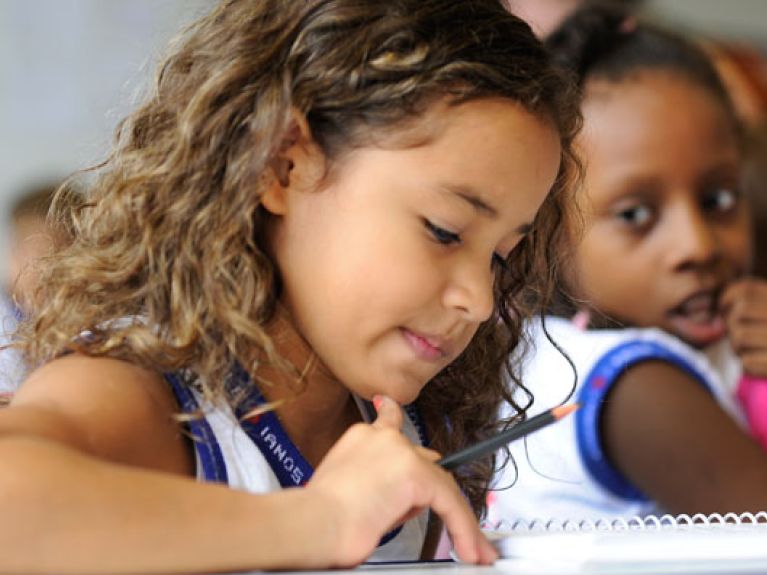 Bildung.de
How long does it take to study architecture in Siegen? Where's the best place for me to learn Spanish? And to which primary school can I send my daughter? With more than 750,000 visitors each month, www.bildung.de is one of the major Internet sites for education opportunities in Germany. The umbrella portal unites some 50 portals with information and comparative details in the areas of early education, schools, vocational training, studying, further education and languages.
eTwinning - School Partnerships in Europe
Intercultural exchange on the curriculum: Kids can get to know their European classmates on the eTwinning portal. The virtual meeting place links up partner schools to get them involved in projects using information and communications technologies together. eTwinning was initiated in 2005 as part of the E-Learning program sponsored by the European Commission.
Center for Educational Media in the Internet
Sometimes, even teachers need private tutoring, and those who want to make their classes more interesting can find ideas at the Center for Educational Media in the Internet (Zentrale für Unterrichtsmedien im Internet e.V., ZUM Internet e.V.), an organization founded by teachers for teachers.
All-Day Schools
Learning takes time: More individual teaching, learning of social skills and creative recreational activities are all part of the educational concept behind all-day schools. The website at www.ganztagsschulen.org provides information on the advantages of full-time schooling as compared to half-day schools, which are still traditionally anchored in the German school system.
Reading in Germany
Canned goods are printed with hieroglyphics, comics are nothing but puzzles: when children and young people have to fight with the simple ABCs, they are very likely to drift off into troubled waters if they don't get any help. The project entitled "Reading in Germany" (LiD) was designed to get kids interested in the world of letters and the alphabet. The German federal and the state governments operate this portal in order to promote the art of reading.
Central Agency for Schools Abroad
Canada, Nigeria or Australia: Schools abroad around the world spread German culture and help to maintain German language skills. The Central Agency for Schools Abroad (ZfA) with its head offices in Cologne supports such facilities financially and pedagogically. The ZfA dispatches teachers to classrooms around the globe and supports their continuing education as well.