How to apply for a job
What to note when applying for a job in Germany.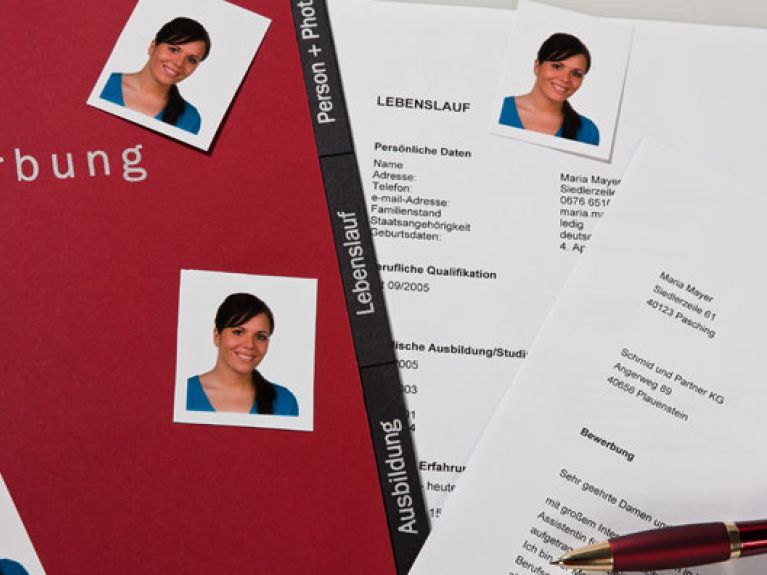 When applying for a job in Germany the recognition of international certificates is an important issue. Applicants should also know which standards apply. We have compiled the most important websites and tips when applying for a job in Germany.
Recognition of qualifications
Applicants can have professional qualifications obtained abroad recognized in Germany. Sometimes this is even required so that they can work in Germany – these are known as "reglementierte Berufe", regulated professions. This applies, for example, to doctors, lawyers and self-employed master craftsmen. That said, applicants in a so-called "nicht-reglementierten Beruf", or non-regulated profession, should also have their professional qualifications recognized. In this way companies have a better idea of foreign applicants' skills. NB: Applicants from non-EU countries who do not have a university degree must have their professional qualification recognized before they can work in Germany. In many cases the recognition process is successful: In 2017 for instance 21,800 professional qualifications obtained abroad were recognized as fully or partially equal to a qualification obtained in Germany. Complete information on the recognition of qualifications is available in eight languages on the website "Anerkennung-in-Deutschland", run by the Federal Ministry of Education and Research (Bundesministerium für Bildung und Forschung, BMBF). The portal also refers to the "Anabin" database, which lists the certificate recognition offices in Germany. Another important contact point is the Federal Office for Migration and Refugees (Bundesamt für Migration und Flüchtlinge, BAMF). The website provides information on the recognition process and immigrant advice centres in Germany in four languages. 
www.anerkennung-in-deutschland.de/professional_recognition
"Recognition Finder"
Certain chambers and authorities are responsible for the recognition of professional qualifications. Exactly which one depends on the profession and potential place of work. Applicants can very quickly find out which body is responsible for the recognition of their professional qualification with the help of the "Recognition Finder". Available in eight languages, it is a service of the website "Anerkennung-in-Deutschland" run by the Federal Ministry of Education and Research. NB: As a rule, applications for recognition carry fees of between 200 and 600 euros. Often additional costs apply, e.g. for translation, certification, etc.
www.anerkennung-in-deutschland.de
Documents from your home country
Important documents such as curricula vitae vary in their formal structure from one country to the next. When you apply to a company you should present such documents as clearly as possible. The bilingual website "Europass" offers good advice. It will help users present and document their skills and qualifications according to European standards. For example, skilled professionals can fill out a CV here or call up a list of certificate supplements.
Standards
An application is basically your calling card. To make a good first impression applicants should take the time to make a real effort. As a rule firms in Germany expect a written application with a cover letter, CV and certificates. Applicants will find more detailed information in the job descriptions. It will also be noted there whether applications should be sent by post or email. Some companies have their own online careers portal and expect applications to be made via this website. Those who are shortlisted are generally invited to an interview, sometimes initially by telephone. The most important information on application standards in Germany can be found on the bilingual Federal Employment Agency (BA) website and the "Make it in Germany" initiative portal. The "Europass" portal also offers plenty of useful tips on making an application.
Checklist for application documents
On the website of the Federal Office for Migration and Refugees (BAMF) applicants will find a helpful checklist for their application documents. It is available in four languages.
Jobseeker's visa
As a rule, European Union citizens do not need a visa to come to Germany and have unrestricted access to the German labour market. The Federal Foreign Office (Auswärtiges Amt) provides information on exceptions in eight languages on its website. Non-EU citizens should find out about the precise entry requirements on the website. A jobseeker's visa entitles applicants to reside in Germany for six months while searching for a job. The "Make it in Germany" portal also provides an overview of visa requirements.
www.make-it-in-germany.com/en/for-qualified-professionals/working/guide/visa