Studying
These portals help you choose a course of studies and master the daily life of the student, between the cafeteria, work and internships. They inform you about scholarships, foreign study and guest studies in Germany as well as educational policy and structures.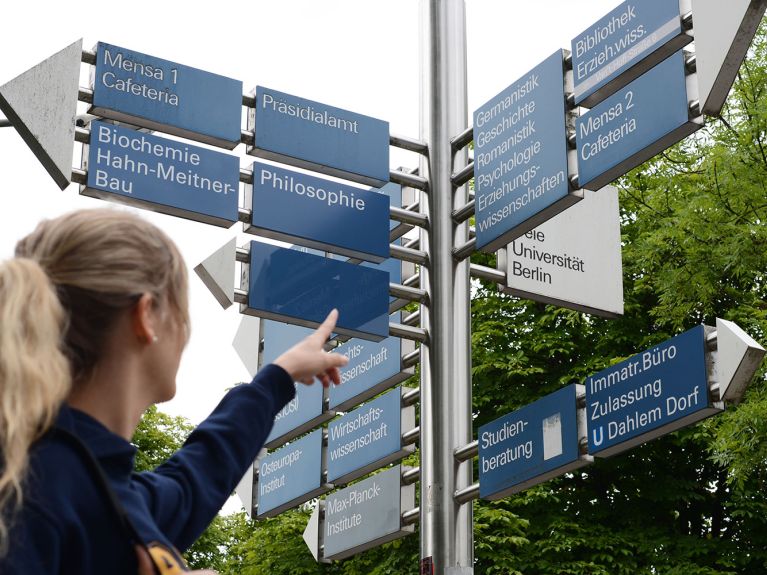 AIESEC in Germany
When AIESEC was founded in 1948, the abbreviation stood for "Association Internationale des Etudiants en Sciences Economiques et Commerciales". Today AIESEC is a name in its own right, denoting the largest international student organization, represented in more than 100 countries. It organizes internship exchanges among the member countries.
CHE – Center for the Development of Higher Education
A "reform workshop" for the German system of higher education: the Center for the Development of Higher Education (Centrum für Hochschulentwicklung, CHE) is a non-profit facility operated by two partners: the Bertelsmann Foundation and the Association of Universities and Other Higher Education Institutions. As an independent think tank and project partner for universities and ministries, it pursues the goal of improving the performance of German universities and colleges by developing new concepts and convincing exemplary models. The best-known CHE project is the annually updated university ranking, which can be read online. www.che.de provides information on the organization of the center, its employees, projects, publications and topics as well as the "Hochschulkurs" (university course) continuing education program.
DAAD – German Academic Exchange Service
This is the gateway to German higher education and a springboard into research abroad. The German Academic Exchange Service (Deutscher Akademischer Austausch Dienst, DAAD) sponsors study and research in Germany and abroad. The site reports on life in Germany and on its educational system, providing databases containing information on international courses of studies and scholarships.
Deutsches Studentenwerk (German Organizations for Student Affairs)
All students under one roof: the German Organizations for Student Affairs (Deutsches Studentenwerk, DSW) is the umbrella association for student organizations in Germany. These organizations perform public functions for the students at German universities, among other things working to realize equal opportunity, and play an important role in shaping the living environment at institutes of higher learning.
Digital Dissertations on the Internet
From the card index to the database: academics take advantage of technology to an increasing extent for research and publications. Anyone interested in publishing research findings electronically can find out how at dissonline.de - Digital Dissertations on the Internet. The service portal operated by the German National Library provides information on legal as well as technical issues and allows you to look at what your colleagues are writing.
GATE-Germany
The gate to the German educational market for foreign students and academics: With GATE-Germany, the German Academic Exchange Service (DAAD), the Association of Universities and Other Institutes of Higher Education (HRK) and Germany universities and colleges have joined together to form a marketing consortium to present research, continuing education and studies in Germany on an international platform.
Higher Education Compass
Navigate your way through the higher education scene in Germany: the Higher Education Compass provides high-school graduates, students and researchers with the information they need. Whether you're interested in studying in Germany or would like to go abroad on an international exchange program – the platform operated by the Association of Universities and Institutes of Higher Education in Germany (HRK – Hochschulrektorenkonferenz) delivers background information and addresses. Go online to research study and training opportunities in any discipline.
International Students
Do I need a visa? Do I have to take a language test? How can I finance my stay? Where will I live? Anyone who registers at a German university or college as a foreign student has a lot of questions that need to be answered. This platform operated by the German Student Union is able to answer a lot of those questions. Whether you need information on how to deal with the authorities once you've arrived in Germany, want tips on how to make your study time more pleasant or want to check out your chances as a foreign academic on the German job market: the German Student Union will support you online with competent advice from the beginning of your stay to the end and beyond.
www.internationale-studierende.de
TU9 German Institutes of Technology
For anyone who wants to follow along in the footsteps of such creative geniuses as Nicolaus August Otto, the inventor of the four-stroke engine, or Charles Darwin, the famous naturalist, a technical college is the place to go. TU9 German Institutes of Technology provides information on where and what to study. The umbrella organization unites nine leading German technical universities - from Berlin to Munich and from Aachen to Dresden. The organization promotes young academic talent and is also involved in cooperative projects with industry. Online you can find profiles of the participating universities, news from the world of research and contact addresses. High-school graduates can go to "SelfAssessment International". Anyone interested in studying from anywhere in the world can put his or her motivation, along with mathematical and language skills, to the test.
ZVS online (Central Office for the Allocation of Places in High Education)
In some courses of study, places are limited. That is why the Central Office for the Allocation of Places in High Education (Zentralstelle für die Vergabe von Studienplätzen, ZVS) often guards the door to the alma mater. Is the course of study you want to pursue in hot demand throughout Germany, or is there only a local numerus clausus (restricted admission)?