Tips for Learning German
How much German you really need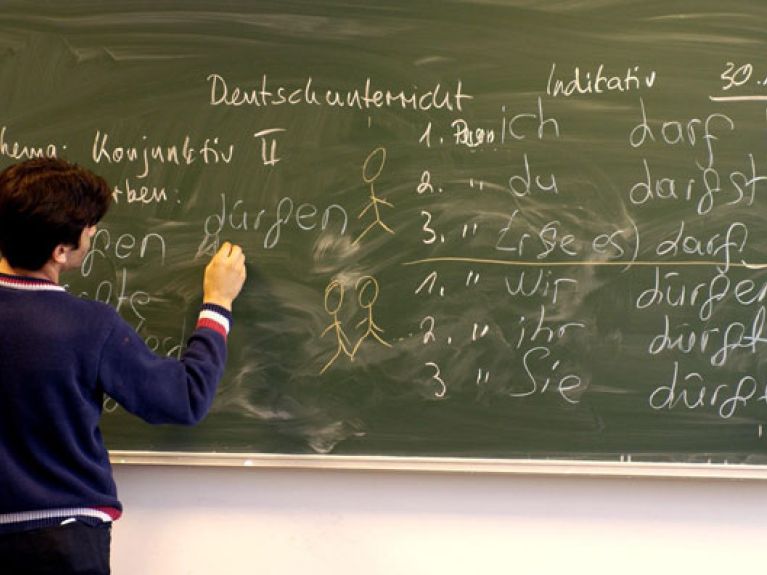 In everyday life you can generally get by in Germany using English too. But at a job and at German universities communication is generally in German. Here you can find out where you can learn the language.
German courses at the Goethe-Institut
The 160 Goethe-Instituts worldwide help to spread the culture and language of Germany, as well as information about the country. The institution's multilingual website lists a wide selection of German courses taking place both in your home country and in Germany. You can even follow online courses. In some of the German courses you will learn the grammar of the German language. Other courses teach you how to pronounce German words or technical language from certain specialist fields such as business, law, medicine, biology, technology and nature. Perhaps you already speak some German? You can put your language knowledge to the test by playing a game – the Goethe-Institut offers an online memory game for you to try.
https://www.goethe.de/en/spr/kup.html
http://www.goethe.de/ins/si/lju/lrn/onl/de10470531.htm?wt_sc=memo-spiel
Online language courses
Would you like to improve your German from the comfort of your own home? No matter where you are living, online courses offer you the chance to learn German wherever you are in the world. Alongside the Goethe-Institut there are many other providers of online language courses, for example the e-learning portal "Deutsch-Uni Online" (DUO), which is available in German. Deutsche Welle also offers an online German course, which is even free of charge. You can perfect your listening and reading comprehension with audios and videos available here. There are also around 750 interactive exercises and tests, as well as worksheets and pronunciation aids available online. Do you first wish to find out how well you already speak German? You can find a lot of information on this on the German-language website "Online-Einstufungstest Deutsch als Fremdsprach" (onDaF, an online test to assess your level of knowledge of German as a foreign language).
http://www.deutsch-uni.com/gast/duo/info/index.do?do=index
http://deutschkurse.dw.de/KursPlattform/WebObjects/KursPlattform.woa/wo/2.1
https://www.ondaf.de/ondaf/info/home.jsp
University courses
Many universities offer German language courses – some of them free of charge – in which you can improve your language knowledge after arriving in the country. Perhaps you can also take advantage of summer courses at your university. These "Summer Schools" not only offer language training; you can also pursue courses in art, architecture, economics and many other subject areas. The best thing to do is take a look at the German- and English-language database of courses provided by the German Academic Exchange Service (DAAD).
https://www.daad.de/deutschland/studienangebote/sommerkurse/en/#p=l&q=&langDistribution=0&subject=0&sortBy=undefined&page=1&display=list
Adult education centre courses
Have you already arrived in Germany and would like to improve your language skills? Adult education centres – which are non-state educational establishments – offer a range of German language courses. You can get a good overview by going to the German adult education centres website, where you can search for German language courses directly on the homepage. The site is available in German only.