Vocational training – 12 important addresses
The most interesting websites and points of contact for your search for a place on a vocational training programme.
14.07.2015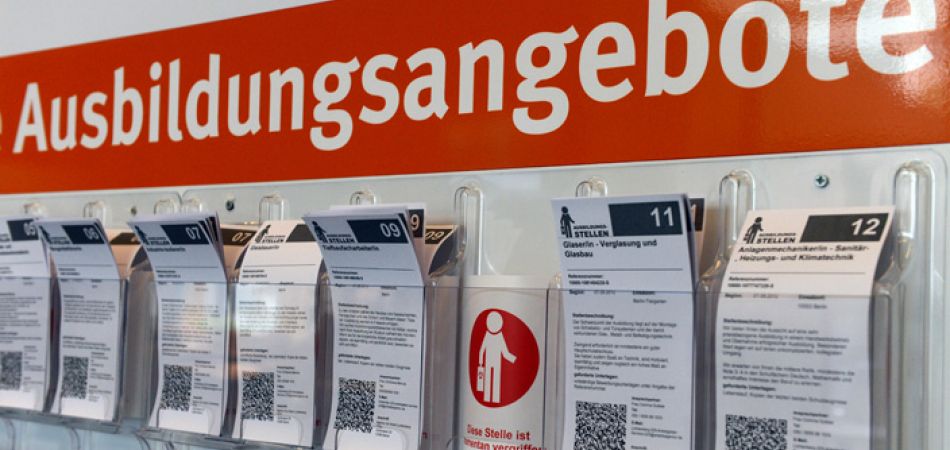 There are many websites you can use to search for apprenticeships or traineeships. Among the most important are those of public programmes, organizations and institutions. Their websites are free to use, respectable, comprehensive and well structured. 
German Federal Employment Agency Job Board
The German Federal Employment Agency (Bundesagentur für Arbeit, BA) is the national German authority for all topics relating to the German world of work. As a rule, anyone fit for work is able to make use of its services free of charge. Staff at the agency offer their help and support with job and traineeship searches and placement both online and in personal advisory sessions. You can look for training slots under the apprenticeships section on the online BA "Jobbörse", the Job and Candidate Board. If you don't want to register, simply glance through the database. You can narrow down your search if you enter certain occupations or your desired place of work. When you select a job or apprenticeship you will get more detailed information, such as the precise job description or application deadline. The search mask is available in seven languages; most job vacancies are in German. If you wish, you can also set up a profile on the BA Job Board. Here you save information about yourself and employers looking for trainees can come across your profile via this function. 
http://jobboerse.arbeitsagentur.de/
Individual service 
If you are already staying in Germany, you can visit an employment agency near you; they're called Agentur für Arbeit. In total there are more than 150 employment agencies and around 600 branch offices in Germany. It is best to arrange an appointment with an advisor by telephone or email before you visit. The careers advisors will also give you addresses of residences for trainees and inform you about further options for receiving support. The German Federal Employment Agency's International Placement Services (Zentrale Auslands- und Fachvermittlung, ZAV) are specially tailored to the needs of foreigners interested in working in Germany. You can contact a member of staff in German or English by telephone or email. The ZAV telephone hotline is 0049 228 713 1313 (local telephone charges apply from a German landline, the respective tariff for international calls applies abroad) and the email address is zav@arbeitsagentur.de. In addition, the website provides relevant information in German and English. 
EURES – "European Job Mobility Portal"
The European Commission has developed its own online network in 26 languages where you can trawl for traineeships across Europe. The portal is called "European Employment Services" (EURES). It has a database of vacancies and provides information on the labour markets and the respective requirements. You can search for a place on a training programme in the section "Jobseekers". Under "Find a job" you can enter a keyword, for example "traineeship", a date when you would like to begin your programme, and select a country you wish to work in. 
German Federal Office of Administration job portal
Civil service – you might not initially really know what that means. The civil or public service is one of the largest employers in Germany and seeks employees of all nationalities. It offers numerous job opportunities, for instance in administration, the educational field or the police service. The central German training authority is the Federal Office of Administration (Bundesverwaltungsamt, BVA). If you are interested in applying for a training position in the civil service then simply visit the BVA careers portal. Enter, for example, the word "Ausbildung" in the search mask and it will show you vacant places on vocational training schemes. The job portal is available in German.
Deutscher Pflegeverband job portal
At present demand is high in Germany for people who wish to work in the area of the professional care of sick and elderly people. Deutscher Pflegeverband, the German Care Association, has developed its own online job portal. Simply type the German word "Ausbildung" into the top search field. You will then be shown numerous vacant training positions. You can also click on certain professional fields and search for trainee positions in your desired place of work. The website is available in German. 
Chamber of Crafts apprenticeship portal 
If you are thinking about doing vocational training in one of the craft trades, chambers of crafts are an important point of contact for you. They represent the interests of companies in the craft industries, employees, and also your interests. This is where you will take your final examination and receive your professional licence. The chambers have regional responsibility. On the central page of Chambers of Crafts in Germany you will find an interactive apprenticeship portal, where you can search for vacant training positions. You first select a region on the interactive map where you would like to do an apprenticeship. You will then be transferred to the site of the relevant chamber. Here you will find, in addition to the apprenticeship portal, contact details of people you can get in touch with for assistance. The website is available in German. 
www.handwerkskammer.de/service/lehrstellenboerse.html
IHK apprenticeship portal
IHK stands for "Industrie- und Handelskammer", Chamber of Commerce and Industry. There are 80 IHKs in Germany. Their task is to act as a kind of mouthpiece and advisor for businesses in a region. They represent the interests of companies vis-à-vis the government and public authorities. Most German companies based here are legally bound to be members of a chamber of commerce and industry. They are important for you because in many cases they conduct the examinations in the training period. The umbrella organization of IHKs is called the Association of German Chambers of Commerce and Industry (Deutscher Industrie- und Handelskammertag, DIHK). It offers an apprenticeship portal on the Internet. Here you enter a profession and can also add a place of work. The website is available in German.
Social media 
Do you have clear ideas about the employer you would like to work for and are interested in a training position at a particular company? Some firms also look for new staff via social networks such as Facebook, Twitter, LinkedIn and Xing – it is worth taking a look at the sites of these companies. Perhaps the company has a branch in your home country, or offers a dual training programme or an exchange to Germany. It is best to simply ask there. The German Federal Employment Agency and a great many firms are also represented at vocational training fairs abroad. Find out when the next fair is near you and who will be there. The advantage of these events is that you can talk to people face to face.
Another tip: Simply take a look at the website of a company that interests you. Most larger German companies have their own careers portal, where you can search for vacant positions – some of them are also in English. You could also try making an unsolicited application if a company has no vacant positions on its website. Your best bet is to look up the details of the correct contact person from the website and find out about the application process in Germany in our "Applying" section. Incidentally, there is an online aid, the "Europass", which you can use to easily put together a clearly structured and correct CV that corresponds to the current standards.
Vocational colleges
Maybe you can't picture yourself working full time at a company yet. But you want to train in Germany and then look for a suitable job. In Germany you learn some professions not on a dual study programme, but at a vocational school only. This applies to jobs in the social, care, business and technical sectors, such as occupational therapists, dieticians and bilingual secretaries. As a rule you attend college for 2-3 years full time, often getting a taste of working life in internships. The advantage of vocational colleges is that you can also obtain a technical university entrance qualification there, which gives you access to a degree programme later on. Some colleges charge tuition fees. Additional useful information on vocational colleges is available on the German-language online portal of the Standing Conference of the Ministers of Education and Cultural Affairs of the Länder (Kultusministerkonferenz, KMK), an association of the ministers and senators of the German federal states responsible, among other things, for education. 
Dual study programme
If you have always wanted to study at university but didn't want to go without either practical experience or a salary, a dual study programme combines all three. There are now many different study courses available, several in the field of economics. Often, for example, studies in business administration are combined with a business traineeship. There are also study programmes in IT, mechanical engineering, electrical engineering and the social sector. Similarly to the dual training programme, you sign a contract with an employer. 
Internship 
How does it feel to go to work every day, have a boss and complete tasks? Only very few young people know. If you want to first get a taste of the world of work and a first-hand insight into various companies, you can do an internship as preparation for a training programme. But remember, you also need to apply for an internship! Find out about the standards in Germany in our chapter "Applying". An internship often means you can get a foot in the door of a company: If you impress your superiors, it may well lead to a traineeship. At the beginning of 2015 a legal minimum wage was introduced in Germany of €8.50 per hour, which in part also applies to interns. You will find vacant internship positions on the Job Board of the German Federal Employment Agency.