The way to a doctorate
You would like to get a PhD in Germany? Here you will find attractive programmes for international doctoral students.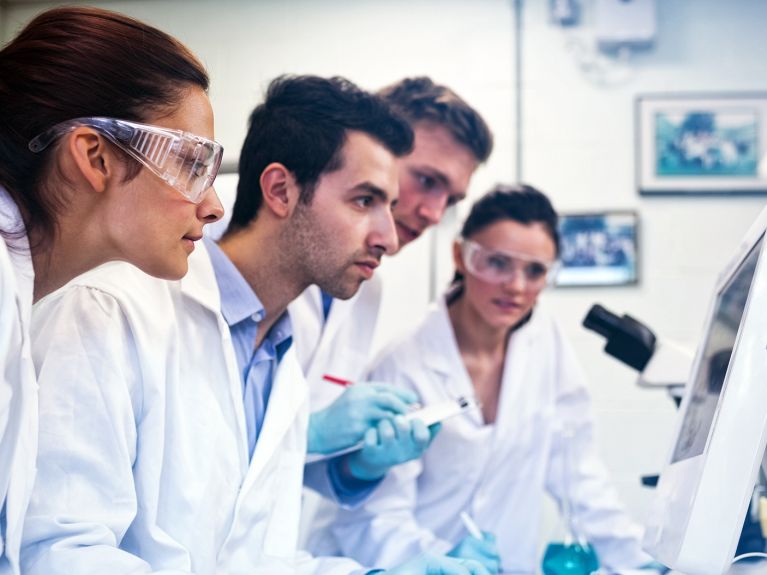 Working in a team, following a clear programme and intensive mentoring by several scholars or scientists: if that sounds like a good idea, a structured PhD programme is the right choice for you. Two more pluses: such programmes usually offer an international environment and the language of teaching and working is often English.
Research training group
In a research training group you are part of a team of doctoral students, post-docs, and scholars or scientists. You carry out research together on a subject, often interdisciplinary and focused on the specialty of the scholar or scientist who is supervising your doctorate.
International research training groups specifically promote scholarly and scientific exchange. During your doctorate work, you conduct research abroad for six months.
Some collaborative research centres of universities operate integrated research training groups. There you can do your PhD in a research-intensive environment in a structured PhD programme.
A survey of research training groups can be found on the DFG website. Applications must be sent to the head of the respective group.
Quick facts
359,000
foreign students
are enrolled at German universities. That's 12.8 per cent of all students.
46,000
foreign scientists
are researching and teaching at German universities.
90
per cent
of the international students want to complete their degrees in Germany.
39
per cent
are enrolled in engineering sciences.
33,300
visiting students
are taking part in the European funding programme Erasmus in Germany.
Research Schools
In non-university research institutions, it is almost the rule to participate in structured, largely interdisciplinary doctoral programmes. The Max Planck Society, Helmholtz Association and Leibniz Association have set up research and graduate schools for their doctoral students, which are also open to international doctoral candidates.
Max Planck Schools
The new Max Planck Schools are something special. They are a joint project of universities and the major research organizations of the Max Planck Society, Helmholtz Association, Leibniz Association and Fraunhofer Society. In these international graduate schools, excellent graduates from all over the world work together in a structured doctoral programme with the best scholars and scientists in their fields.
Doctoral programmes and courses of study
Many universities also run special international doctoral programmes that either target specific research topics or support doctoral students with interdisciplinary offerings. These programmes can be found in the DAAD database (in English).
More information and tips can be found at Research in Germany
You would like to receive regular information about Germany? Subscribe here: