Discover DE: Observatories
The series "Discover DE" takes you on a tour through Germany: this time to observatories.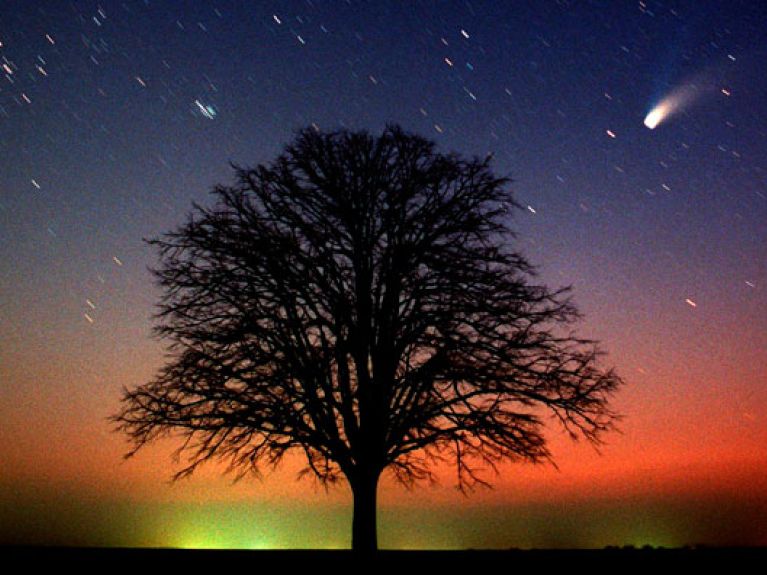 Bavarian Public Observatory, Munich
More than 25,000 people visit the Public Observatory in Munich every year. The observation platform, which is 300 square metres in size and located at a height of 35 metres, offers a beautiful view of Munich and the Alps in addition to the fascinating view of the universe. Founded in 1946 by hobby astronomers, the institution is today one of the largest and best-known observatories in Germany.
Hamburg Observatory, Bergedorf
In 1973 the gaze of the entire world was turned to the Hamburg observatory. The reason was the discovery of the Comet c / 1973 E1, sighted by the Czech astronomer Lubos Kohoutek. Founded in 1912, the observatory was then the most modern such facility in the world. Today the listed building with its impressive astronomical equipment still serves as the astrophysical research institute of the University of Hamburg.
Sonneberg Observatory
On Saturday evenings the dome is opened and affords a view of the cratered landscape of the moon, the rings of Saturn and many other celestial phenomena. Depending on visibility and weather, you can also spy globular star clusters, galaxies, binary stars and planetary nebulae. Founded in 1925 by the Sonneberg astronomer Cuno Hoffmeister, the observatory is located on the 636 metres high Erbisbühl in Thuringia.
University of Göttingen Observatory
Between 1816 and 1855 the University of Göttingen Observatory was the domain of the mathematician and astronomer Carl Friedrich Gauß. Here, in the two Meridian Halls, he obtained for the first time an exact measurement of place and time through the determination of stellar coordinates. The dome of the observatory has been completely refurbished and this site of notable of past research become a public attraction.
www.uni-goettingen.de/de/91323.html
Wilhelm Foerster Observatory, Berlin
At the Berlin observatory, opened in 1963, everything began with a 12-inch Bamberg Refractor made in 1889 and the idea of creating a public observatory for the residents of West Berlin. Today young and old enjoy the breath-taking view of the starry heavens afforded by the planetarium and discover stars and planets with the telescope.