Technology for life
Medical technology develops technical solutions to medical problems. You can acquire the basics for this in these five study programmes.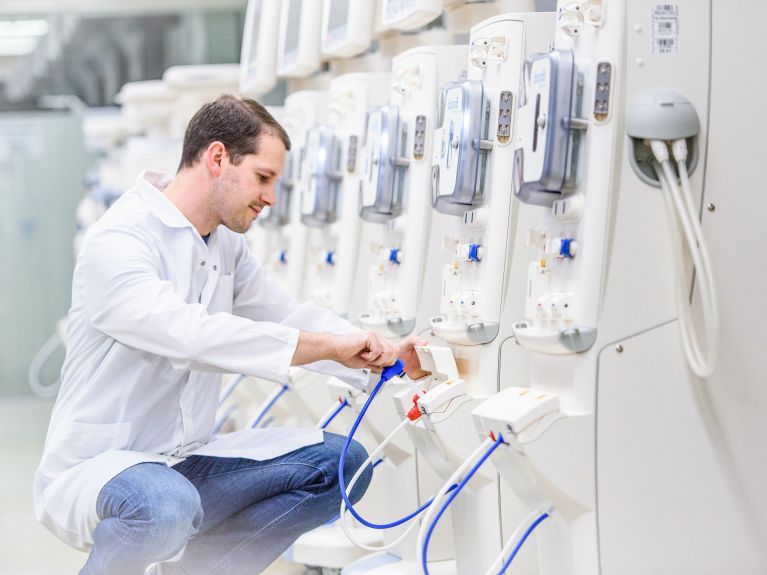 1. Interface between medicine and technology
From pacemakers and 3D ultrasound to minimally invasive robot-assisted operations – medical technicians translate the results of clinical research into new products and processes for medical treatment. Both disciplines work hand in hand. A joint bachelor's degree at the Mannheim University of Applied Sciences and University of Heidelberg focuses on these interdisciplinary studies.
2. Future-oriented and meaningful
At the Georg Simon Ohm Technical University of Nuremberg, study is very much tailored to the engineering and technical areas of medical technology. The practice-oriented bachelor's degree programme prepares students for the development, maintenance and quality assurance of medical devices, imaging systems, mobile applications, prostheses, implants and hospital networks.
3. Focus on mechanics and construction
What happens when medical devices are used? Safety aspects in the interaction of technical systems with the human body are given special attention at the Technical University of Berlin. The master's degree in biomedical technology in cooperation with clinics and industry provides knowledge of the function, structure, development and use of medical devices and instruments for prevention, diagnosis, therapy and rehabilitation.
4. Test models from the 3D printer
Biofabrication is on the rise. The interdisciplinary field of work deals with biomedical applications that could, eventually, even include artificial organs. The master's degree programme at the University of Würzburg deals with the use of manufacturing techniques such as 3D printing and their biotechnological application. The master's degree in biofabrication at the University of Bayreuth uses English as its language of instruction.
5. Biochemical processes in the pharmaceutical industry
The study of biotechnology and pharmaceutical technology brings two disciplines together: the bachelor's degree programme at the Environmental Campus Birkenfeld of the Trier University of Applied Sciences combines natural sciences with engineering. After six semesters, the students' knowledge ranges from bio-pharmaceutical production processes and quality assurance to biochemical analysis techniques.
You would like to receive regular information about Germany? Subscribe here: