Strong centres: DWIH New Delhi
German Houses of Research and Innovation promote the internationalisation of science and research around the world.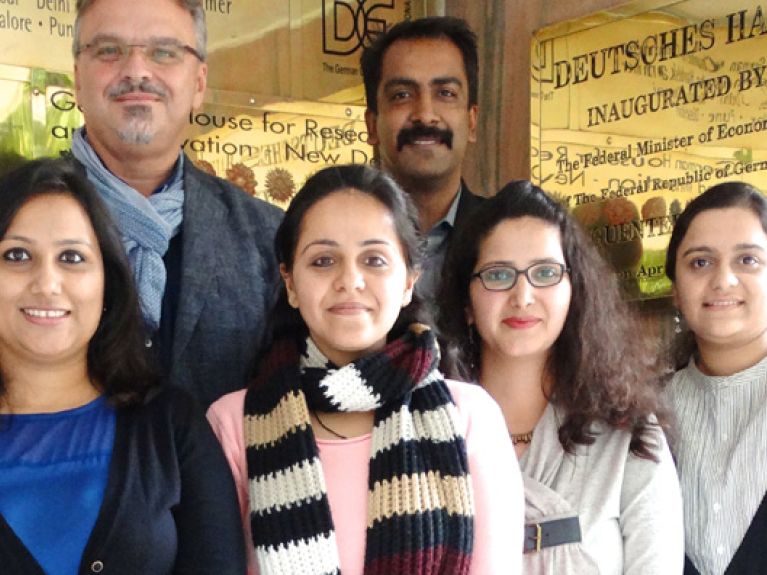 Partnerships with German research institutions are also supported by the German House for Research and Innovation in New Delhi, which is based in Chanakyapuri, the world's second largest diplomatic quarter. But why are its offices there and not in the business metropolis Mumbai or the research city Bangalore? "This is where we can find the research policy decision-makers that are important for our work," says DWIH Director Alexander P. Hansen, "as well as outstanding research establishments like the Indian Institute of Technology Delhi." In 2013 and 2014 the DWIH presented the enormous breadth of Germany as a centre for business and research in different Indian cities with the Excellence on Tour project and a 250 square metre pavilion provided by the Federal Ministry of Education and Research. It travelled from Hyderabad in the south to Ahmedabad in the west to Kolkata in the east. "We succeeded in interesting over 33,000 visitors in Germany's economy and its research and science organisations with over 150 individual events at these three locations," says a pleased Director Hansen.
Hansen and his staff note the excellent reputation German universities have in India in the fields of engineering and technology. The DWIH presents German research strengths from different perspectives: consortium leader in New Delhi is the German Research Foundation (DFG), which, for example, funds an international research training group on infection research in Hyderabad. "You sometimes have to promote basic research more vigorously in an emerging industrial nation, although it frequently also gives rise to concrete product lines," explains Hansen. The Fraunhofer-Gesellschaft, one of a total of 15 DWIH consortium partners, is outstanding when it comes to applied research. Ultimately, however, it is diversity that counts: like all the centres, the DWIH in New Delhi extensively promotes the enormous potential that German research and innovation offer for inter­national partnerships.