Strong centres: DWZ Cairo
German Houses of Research and Innovation promote the internationalisation of science and research around the world.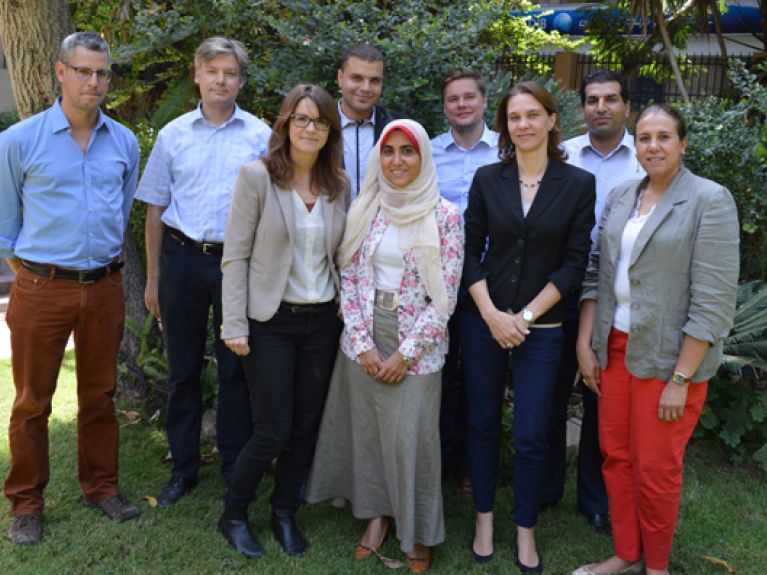 Students played a major role during the Arab Spring in Egypt. The Federal Foreign Office agreed a transformation partnership with the country in 2011 to support the democra­tisation process. It was within this framework that the German Science Centre (DWZ) was opened in 2012. "Since then the DWZ has been successfully consolidating the activities of German research organisations that already had experience in Egypt," says Florian Kohstall, who represents Freie Universität (FU) Berlin in Cairo and is also Deputy Director of the DWZ. This continuity is also reflected in the Cairo Talks on Transformation and Change, which began before the foundation of the DWZ and have followed Egypt's chequered development until the present. They range from debates on the constitution to questions about the future of family policy. This series of talks is organised by FU Berlin, the DAAD and the German Orient-Institut Beirut, three out of a total of nine members of the DWZ, which attracts considerable interest with numerous events.
In 2013, German Science Day attracted roughly 1,500 visitors to the campus of the DAAD office in the Zamalek district of Cairo. This is also where the DWZ is based, only 15 minutes by car from Cairo University and Tahrir Square. "We would like to offer Egyptian students and researchers new perspectives with events on subjects such as entrepreneurship and innovation or PhD matchmaking fairs," emphasises Roman Luckscheiter, who heads the DWZ and the DAAD office. DWZ research partnerships offer significant benefits for both sides: Luckscheiter explains that access to vocationally oriented higher education, for example, is a life-changing opportunity for Egyptians, while entirely new possibilities present themselves for German researchers in Egypt, for example, when it comes to research into climate change or megacities.