New possibilities for studying medicine
The conditions for admission to medical school are changing in Germany. International applicants have excellent chances.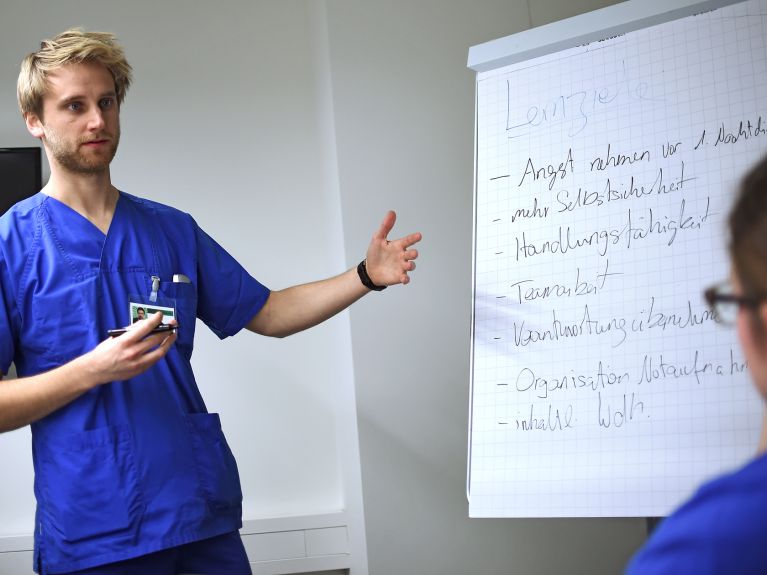 How can you study medicine in Germany?
Up to now, those with the best grades were accepted first. But in future, a wider range of applicants will be given a chance. Following a decision by the Standing Conference of the Länder Ministers of Education and Cultural Affairs, the allocation of university places for studying medicine is to be changed. The 'numerus clausus', which is oriented towards an applicant's grades in school-leaving examinations and regulates the limited admission of students, will continue to exist, and about 20 percent of the study places in human medicine will still go to the applicants with the best grades. But what is new is that greater weight will be attached in the universities' selection procedures to a person's CV, motivation and personal commitment. These criteria will also play a role in the Standard Assessment Test for Students of Medicine (TMS). More and more universities are offering the TMS test, which also makes access possible for study applicants without top grades.
Where can you study medicine in Germany?
There are 38 medical faculties spread all across Germany. Especially well known are major university clinics such as the Charité Universitätsmedizin Berlin and the University Hospital Heidelberg, which is a leader in the field of oncology in cooperation with the German Cancer Research Centre (DKFZ). In addition to the public universities, five private higher education institutions currently offer medical studies in Germany. The structure of study programmes is uniformly regulated throughout Germany; they all end with the so-called state examination. Applications go via o the nationwide admission procedure of the Foundation for University Admissions; this also applies to international candidates. Detailed information for international students who wish to study medicine is also available via the website of the German Academic Exchange Service study-in-germany.de.
How international is the study of medicine in Germany?
A good knowledge of German is important if you want to study medicine. Although the specialist literature can, of course, be obtained in English, lectures and examinations are held mostly in German. After all, budding doctors must be able to communicate with their patients. It's worth learning German anyway because the career prospects for international physicians are very good. The number of foreign doctors working in German hospitals has been increasing rapidly for years. And general practitioners are urgently sought after for practices in rural areas.
Guide: How to Become a Medical Doctor in Germany
Applying for a study place in Germany