Study Peace and Conflict Studies
Finding out about international conflicts and finding solutions - you can study this at these universities in Germany.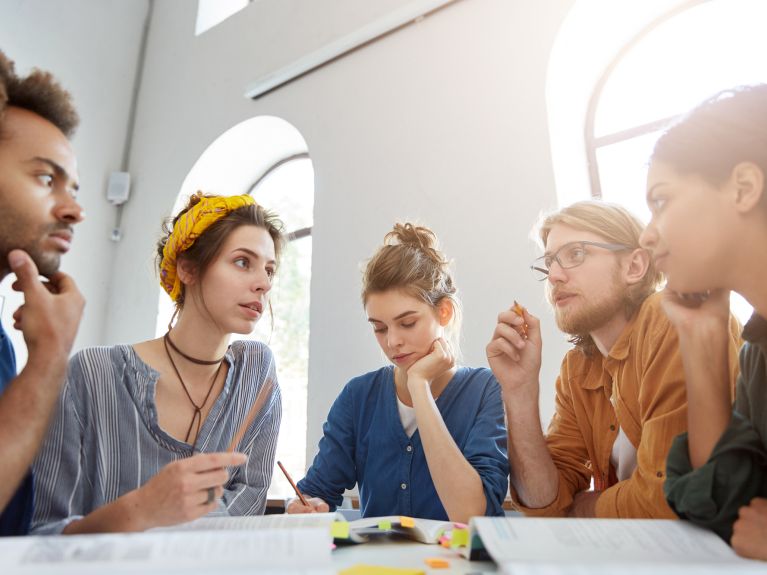 Perhaps you have often wondered what causes the conflicts that we hear about on the news over the years. What makes tensions escalate into wars? How is a compromise negotiated? How can peace be restored? If you are concerned with such questions, Peace and Conflict Studies might be the right course of study for you.
Currently there are 120 Bachelor's and Master's degree programmes at German universities on the topic area of international relations and Peace and Conflict Studies. The Higher Education Compass allows you to filter degree and international programmes by focus: www.hochschulkompass.de.
Peace and Security Studies in Hamburg
Unique in Germany is the international Master's programme in Peace and Security Studies at the University of Hamburg in cooperation with the Hamburg Institute for Peace Research and Security Policy (IFSH). The programme lasts two semesters. Part of the teaching is done in English. The focus is on peace research, globalization, arms control, security policy and international law. The curriculum imparts skills in peacekeeping and monitoring and mediation in governmental and non-governmental organizations, administrative bodies and businesses.
Peace and conflict research in Marburg
The University of Marburg was the first German university to offer Peace and Conflict Studies. The teaching at the Centre for Conflict Research is interdisciplinary, practical and internationally oriented. The university engages experts from the Federal Foreign Office, the German Society for International Cooperation (GIZ), the Civil Peace Service (ZFD), political foundations and NGOs. A special offer is the English-language joint degree programme Peace and Conflict Studies in collaboration with the British University of Kent / Canterbury.
International Studies / Peace and Conflict Studies in Frankfurt and Darmstadt
This cooperative programme of study at the University of Frankfurt and the Technical University of Darmstadt is closely interlinked with the Hessian Foundation for Peace and Conflict Studies (HSFK). Students acquire the ability to analyse domestic and international conflicts and develop solution strategies.
"Conflict, Peace and Memory" in Eichstätt-Ingolstadt
The binational Master Conflict, Memory and Peace at the Catholic University of Eichstätt-Ingolstadt offers students the possibility to gain fundamental analytical and practical skills in the area of peace and conflict studies.Students spend one year in Germany and one year at the Universidad del Rosario in Bogotá, Colombia. This interdisciplinary degree program involves political science, sociology, law, history, philosophy, theology, romance studies and social work. The memory component fosters a multidimensional and context-sensitive understanding of peace and conflict.
International Humanitarian Action in Bochum
At the University of Bochum you can specialize in Humanitarian Aid and gain a Joint European Master's Degree. The language of instruction is English. This challenging programme enables you to work, for example, as a legal advisor, physician or project manager with UN institutions, governments, associations or NGOs.
You would like to receive regular information about Germany? Subscribe here to: