Studying sustainable construction
From construction technology to the refurbishment of old buildings: these degree courses teach how buildings should be constructed in the future.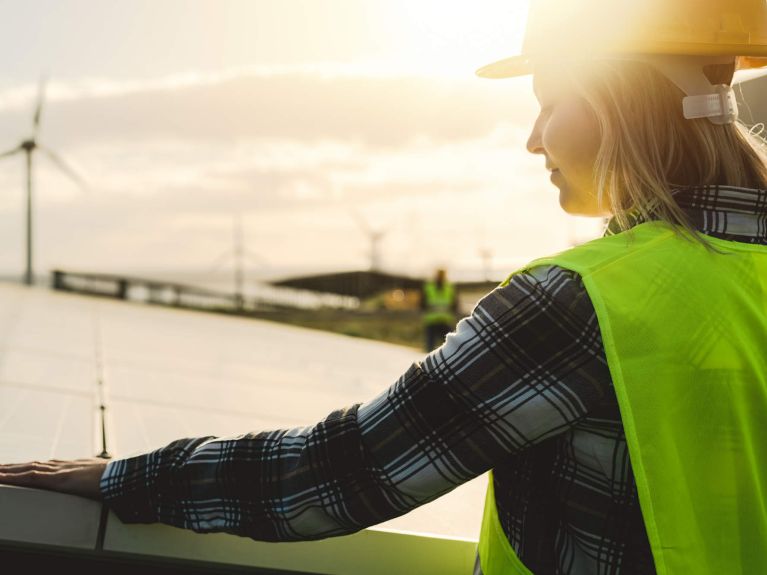 Making housing more sustainable and more climate friendly is one of the main goals of climate action. Whether this involves new buildings or refurbishment, students at universities in Germany are learning to pursue new approaches in building for the future.
Energy-efficient and interdisciplinary
Building for comfort, but with minimal use of resources and the lowest possible impact on the environment and nature: the Bachelor of Engineering course in energy efficient planning and building at Augsburg University of Applied Sciences sets itself the goal of climate neutrality. This study programme combines traditional architectural design processes and urban planning with course content oriented towards sustainability. Design, construction and efficiency are just as much part of the programme's concrete practical projects as construction physics, building technology and eco-auditing.
Warm, bright and sustainable
TH Lübeck offers students the opportunity to learn how to optimise the ecological and economic aspects of building technology. Students on the Bachelor of Engineering course in sustainable building technology should have an interest in natural sciences and enjoy mathematics. During their studies the future engineers work closely with students of architecture and planning – resource-saving architecture can only be realised if all disciplines work together.
Internationally oriented
How should we build if resources become scarce worldwide? This English-language Master programme in sustainable structures focuses on this highly topical question. In addition to specialist knowledge of technology and management, this engineering programme at Frankfurt University of Applied Science (UAS) also covers leadership and communication skills. Graduates are well-prepared for working in an international setting – and also qualify as energy consultants.
Construction and refurbishment in existing buildings
Buildings have a long useful life. Demolition and rebuilding from scratch are associated with a high use of resources and therefore often not the most environmentally friendly solution. Students on the Master course in sustainable refurbishment and construction in existing buildings at Dresden University of Applied Sciences learn how to manage complex newbuild and renovation projects. The key focus is always on sustainability.
You would like to receive regular information about Germany? Subscribe here: