Hitchhike and help
Ahead of them lies a hitch-hike of 2,000 kilometres from Erfurt to Lithuania. Three students are taking part in the 10th hitch-hiking race across Europe. 
29.08.2017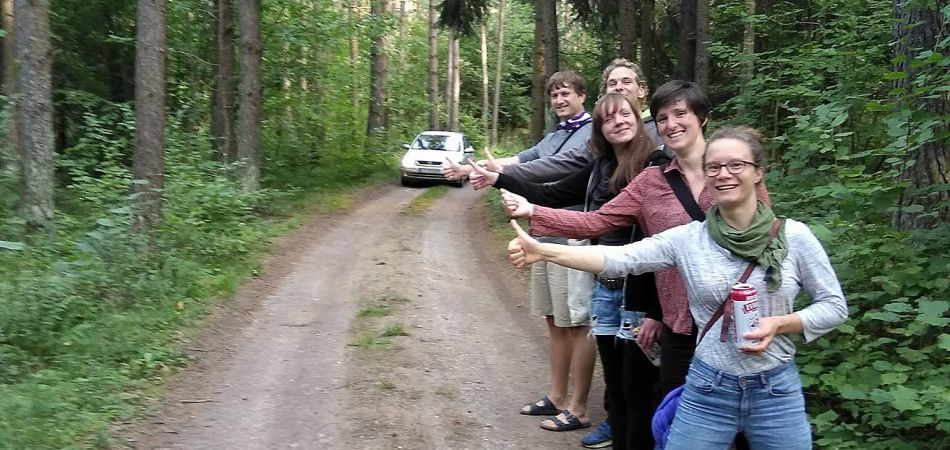 They have done it! Antje, Ela and Hanoch have reached the finish of the hitch-hiking race in Lithuania. They have hitch-hiked 2,000 kilometres from Erfurt through Poland and Latvia to Lithuania's Lake Baltieji Lakajai. They were lucky in the final stage: The Lithuanian racing driver Benediktas Vanagas gave them a ride. Coming in at 37th in the hitch-hiking ranking puts Antje's team at the back of the leader board, and in total all the participants collected almost 7,000 euros in donations for Viva con Agua and Pro Asyl.
"This time we had different experiences compared to the last hitch-hiking race. The people in Lithuania were very nice, but were less keen to give us a lift than the people in Poland, for example. It seems it is not so common here," reports Antje.
Now at the finish, the three can relax, meet the other teams and look forward to the award ceremony. Then they'll be hitch-hiking back home to Kiel.
The two students Antje and Ela from Kiel helped organized this year's hitch-hike race. To this end, each year in August about 150 young people meet up to hitch-hike several thousand kilometres across Europe. Often, the race has headed through southeast Europe – for most of them the route to Lithuania was new. Before and during the race, the teams collect donations online that then go to various charities. This time to "Viva Con Agua", whose supporters drive water projects all over the world, and to the human rights organization Pro Asyl.
By means of a live ticker and a ranking table the teams were always able to see how they were doing compared to the others.
We spoke to Antje and Manuela.
We are united by our tolerance for other people and other cultures and a willingness to help.
Ela, co-organizer of the hitch-hiking race
Why are you taking part in the hitch-hiking race?
Antje: I've taken part every year since 2014 and I think hitch-hiking is a great way to travel. You get to know lots of different people who let us into their comfort zone, namely their cars. They tell us stories from their lives, and often all sorts of interesting talks and discussions ensue. If I didn't hitch-hike, I would simply not have seen all manner of places that we have seen courtesy of the lifts we got. How I see people has changed through hitch-hiking. It helps me overcome my prejudices and see the positive in people, because they always help us a lot along the way.
What's special about this competition?
Ela: Everyone who takes part has the self-same mindset. We're united by our tolerance for other people and other cultures and a willingness to help. Even before I took part in the race for the first time I was an active supporter of "Viva Con Agua" and collected donations for water projects. Holidaying and at the same time helping others – that's simply cool.
Antje: We want in this way to do our bit to making the world a better place. Our slogan is: "No Borders", because we feel it is unfair that we can simply cross so many borders while other people cannot.
Don't you sometimes feel afraid getting into a stranger's car?
Antje: I've thus far always arrived safely at my destination and nothing has ever happened to me. People trust us and we trust them. And the rules of the hitch-hiking race are that there is at least one man per team. No woman travels alone. We'll meet our team partner, Hanoch from the Netherlands, at the start in Erfurt.
What do you look forward to most over the next two weeks?
Ela: I'm looking forward to all the locals we'll meet along the way. During one of the hitch-hiking races we were taken in by inhabitants in a tiny village in Serbia who even cooked for us. I found the interaction with the Muslim community immensely enriching. Since then we've visited them again a few times.
For further details:
Antje and Ela's team is called "Nochn Stopperle und dann los". They'll be heading from Erfurt for Baltieji Lakajai Lake in Lithuania from 19 August to 1 September 2017. You can follow their trip on our social media channels: