The promise of democracy
Inclusion in German and Israeli Societies is an exchange project that brings together people with different opinions and identities.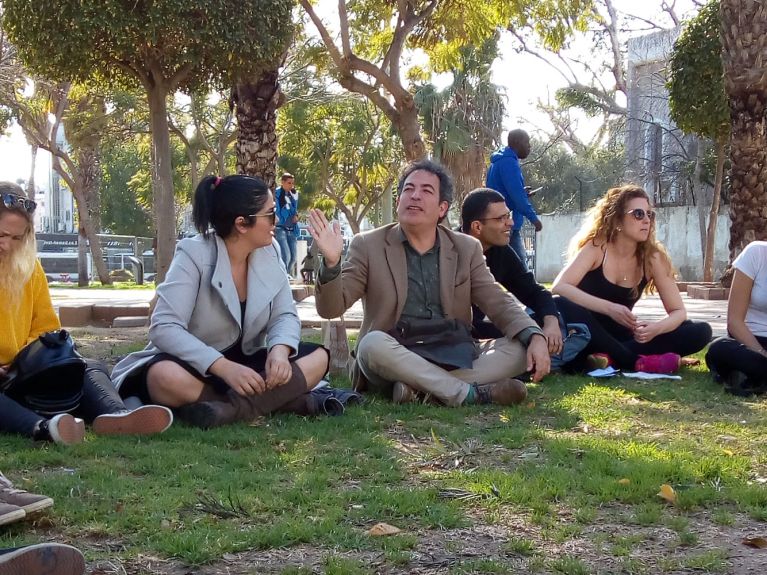 How can society ensure respect for individuals with all their idiosyncrasies, needs, lifeworlds and values? How do people treat those who are supposedly "different"? Who defines what is normal and what is not? These questions are being addressed by a project called "Inclusion in German and Israeli Societies – Challenges in Social and Youth". Some 140 young people from Israel and Germany have already taken part in this student exchange since 2018. They have discussed inclusion, for example of people with disadvantages, different religions, refugees and sexual orientation and learned that nothing is as simple or as one-dimensional as it sometimes appears at first glance.
Originally launched as an exchange of professionals, today the project is jointly led by Professor Gritt Klinkhammer and Mouli Bentman of Sapir College in Sderot with staff at Bildungsstätte Bredbeck in Lower Saxony. In 2020 the project was honoured with the Shimon Peres Prize, an award of the Federal Foreign Office in cooperation with the German-Israeli Future Forum.
The young people spend one week in each country. "Two heterogeneous groups do not only get to know one another and their respective other ways of life, but also learn more about different attitudes to life and, naturally, inclusion and exclusion," says Klinkhammer. Prejudices often clash in an exchange of this kind, but are then called into question and reduced in the course of the journey. This occurs as a result of cultural activities, such as theatre or music projects. However, the subject of inclusion and exclusion is also addressed in role play exercises. "When you examine Israel and Germany, some soon feel that everything is now working really well in Germany," says Klinkhammer. "But it becomes clear during the project that there are also social disparities in our country and that there would be even more if people did not actively work for inclusion." She explains that this view is not self-evident.
Lipaz Dadon Huri, 25, is studying public administration and politics at Sapir College in Sderot
Why is international exchange on the subject of inclusion and exclusion important?
If you want to talk about inclusion and exclusion, you need groups made up of very different identities and opinions. In our everyday lives, whether in our private or work environments, we are often surrounded by people who share our views and have similar living conditions. We should, however, consciously work at developing relationships with people who are different and think differently. We must carry out meaningful discussions with them and above all listen.
What were your motives for taking part?
I wanted to gain as many different kinds of practical experience as possible while I was a student. The idea of taking part in an exchange on the subject of inclusion and exclusion fascinated me, especially one involving Germany and Israel. I was glad to find that my curiosity has even increased as a result of taking part. Above all, I wanted to find out about the lives and the challenges of people with disadvantages. The workshops in which I took part and the places I was able to visit have broadened by thinking and my outlook.
What was the highlight of your exchange?
The visit presented a number of challenges, beginning with the difference in climate, language problems and the need to adjust to different customs. One cold afternoon, however, we visited the Neue Vahr e.V. community centre in Bremen. For us it became the place where all the discrepancies and difficulties in our group suddenly became secondary. In my opinion, meaningful and sustainable learning occurs when you experience something yourself and, as a result, better understand other views. There, in that cultural centre, deeds became more important than words. Art, humour and humanity united our multiethnic group on that day. I still frequency look back on it with pleasure.
Franziska Betz, 29, is studying transcultural studies at the University of Bremen
Why is the subject of inclusion and exclusion important to you?
It is important for society. The promise of democracy is that everyone can participate. But it is not always fulfilled. That's why I find it important that people should look into it and consider how participation can work.
Why did you want to take part in the programme?
In the past I have paid close attention to anti-discrimination issues, including gender and sexual diversity. That's why I found the thematic focus of the exchange very interesting. But I also wanted to get to know the country of Israel – and not as a tourist, but in a framework where I could get to know people differently. I wanted to get closer to Israeli society in that way. During the exchange I encountered many organisations that deal with the subject professionally – and I learned even more clearly that everything in Israel does not always revolve around the Middle East conflict. It is all more complicated and more complex than it seems at first glance.
What was the highlight of your exchange?
In Israel we visited a school in the Bedouin village of Zarnug. A project there is training mediators. It was wonderful to discover how the children there are being helped to stand up for themselves and their environment – and learn to solve problems themselves. In personal terms there were also an incredibly large number of beautiful moments within the group. We celebrated the shared encounter and developed personal ties.