Leisure activities for daredevils
Hiking and biking a bit too tame for you? Then why not discover the more exciting side of Germany...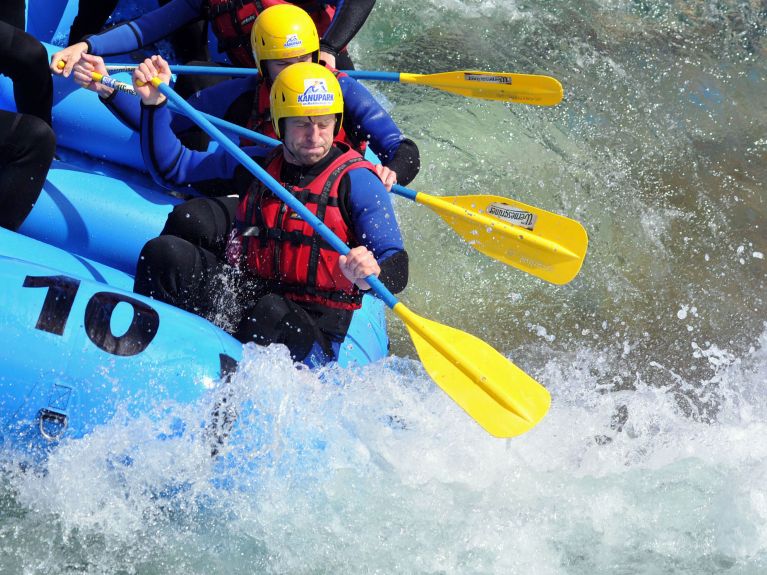 Base flying in Berlin
What, all the way down there? Just peering off the roof of the building, 125 metres above Berlin's Alexanderplatz, is more than enough to set the nerves jangling – but now there's no turning back. In free fall, daredevil Berlin tourists plummet through the air on a rope, screaming with fear at first and then with euphoria. Base-Flying is the most extreme Berlin kick!
Zipline
Zipline parks can be found in many beautiful natural settings all over Germany. While many people are familiar with the more harmless versions to be found on children's playgrounds, a "grown-up" zipline can offer a real adrenalin rush. In fact, the zipline's other name of "flying fox" better describes the experience, as you really feel as if you are flying. Secured by a harness and attached to a wire rope, you soar at breathtaking speed across treetops, gorges or reservoirs – and the bird's eye views are spectacular. 
Three zipline options:
Megazipline: At an altitude of 120 metres, Europe's biggest double zipline takes you a kilometre across Rappbodestausee reservoir in the Harz region
Winter zipline in Bolsterlang in the Allgäu region
Rafting
Feel the power of the white water and the spray in your face – any water sports fan should definitely try out rafting and canyoning. Rafting tours at different levels of difficulty are available along rivers in the Alpine region, ranging from a family day out to a real tough test of endurance. One special experience is rafting down an Olympic white-water course: for the 1972 Olympic Games in Munich, the world's first artificial white-water river was built in the nearby city of Augsburg. 
Blobbing
A blob is a huge cushion of air that floats on water. This fun-filled water activity needs two people at least – a blobber sits on one end of the blob while a jumper leaps from a diving platform onto the other end, catapulting the blobber several metres up into the air – and then back down into the water. This highly entertaining leisure activity from the USA is now on offer at a number of lakes in Germany
Skydiving
Skydiving is the perfect way to get an amazing panoramic view over Germany. Anyone brave enough to give it a go can book a tandem jump with a trained skydiver in many regions around the country. The island of Sylt and the Lake Constance area are among the most popular "drop zones".
Paradises for water sports fans in Germany