New Roma Institute in Berlin
The institution will provide a forum for the minority and create space for its art and culture. International press opinion on the new institute.
07.08.2017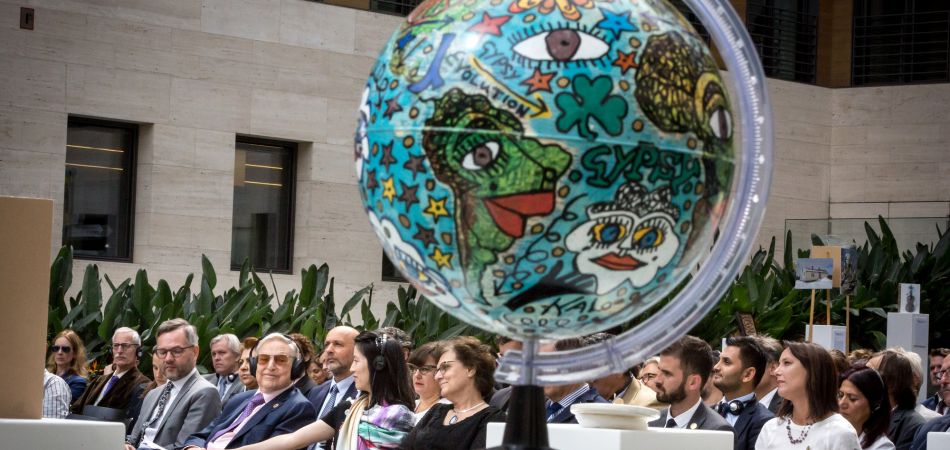 Anyone who attacks the Roma, attacks the open society, says George Soros. Which is why the investor and his Open Society Foundation are supporting a new cultural centre in Berlin. The European Roma Institute for Art and Culture (ERIAC) sets out to create a stronger awareness of the Roma's traditions and history. In addition to the Open Society Foundation the Council of Europe is also helping fund the institute. The German Federal Foreign Office is advising it. Around 12 million Sinti and Roma live in Europe today, but to date there has not been any comparable institution. The ERIAC is therefore widely considered a role model – there has been much coverage in the international media.
Berlin is seen as an ideal location for the institute.
The Guardian
The Guardian
The British Guardian writes that while Germany has long addressed the Jewish Holocaust, recognition of Roma victims has taken far longer.  The new institute makes real sense as "the Eriac will seek to act as a hub, a meeting point for Roma artists and intellectuals, and as a point of contact for festivals, galleries, museums and other institutions seeking partnerships or materials for exhibitions." Berlin is seen as an ideal location for the institute, the Guardian  says, "not just because of its geography, but because of its vibrant art scene and its status as a magnet for young Europeans."
New York Times
The New York Times in its article entitled "Lifting Up the Arts and Culture of Europe's Roma in Berlin" quotes the Chairman of the ERIAC board Zeljko Jovanovic.  "There were times when many of us felt discouraged," Jovanovic recollects, but "what made us carry on is the basic proposition that a story of who we are should be told by us – that the power of defining who we are lies in our own hands. Today this proposition is the founding principle of the ERIAC."
Al Jazeera
Al Jazeera quotes Timea Junghaus, art historian and ERIAC's new director, who was shocked to find out how rarely museums show works by Roma artists. "The past four decades taught us that simply depending on the benevolence of majority museums for Roma representation is unreliable and inefficient." The ERIAC is intended to close this gap. "I hope I can participate in the reinvention of the Roma image."
Süddeutsche Zeitung
The Süddeutsche Zeitung also emphasizes this ability of the Roma to shape that image themselves. "To master one's own history! To tell the story of one's own pain and wounds, wishes, fears, yearnings, instead of being dominated by the images and clichés of others! That sounds like the obvious need of most people, but for the Sinti and Roma in Europe it is nevertheless hardly possible."