"The new heart of Jewish life"
The Pears Jewish Campus in Berlin: A place of tolerance and learning. Read how it aims to strengthen and promote Jewish life in Germany.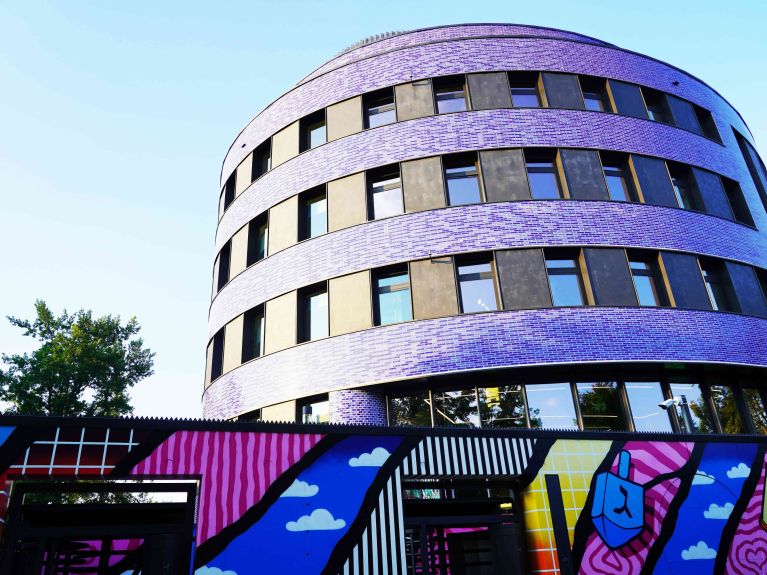 Jewish life is thriving in Berlin: More than 8,200 practising Jews are members of the Central Welfare Board of Jews in Germany (ZWST) - only the community in Munich is bigger. Located in the city's southwestern district of Wilmersdorf, the Pears Jewish Campus now aims to raise the profile of Judaism in German society. The centre's opening was described by Rabbi Yeuda Teichtal, the project's initiator, as a historic moment and a new opportunity for peaceful coexistence. "The campus is a beacon of light and tolerance," he says, "and a place for effective and open interfaith dialogue. We hope that it will usher in a new era of Jewish life in Berlin and in Germany." Rather than looking back to the past, however, the campus is to focus on the future. As well as on the here and now.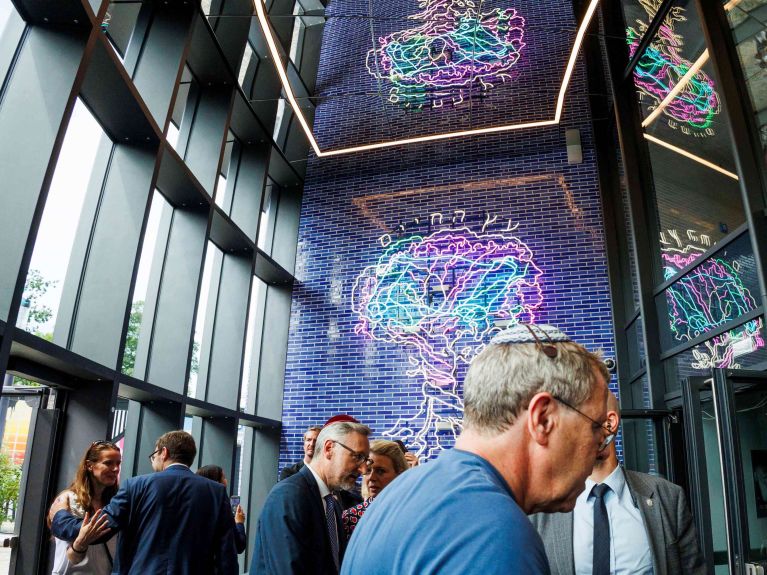 Raising the profile of Jewish life in Berlin
The circular building with its blue tiles soars skywards on seven stories. With around 8,000 square metres of floor space, the newly built campus features a library, an art studio, a music hall and a kosher restaurant, not to mention a childcare centre and a primary school linked to a secondary school. The latter describes itself as offering "a strong Jewish foundation", including lessons in Hebrew and English from year one; nonetheless, as Rabbi Teichtal emphasises, the educational facilities and the rest of the campus are in principle open to everyone. "We make no distinction between Jews, Muslims, Christians and Hindus, nor between skin colour or sexual orientation," he says. "Everyone is welcome here." This attitude forms the basis for Teichtal's vision, as does his desire for enlightenment. "Everyone in Germany will have heard something about the Shoah at school," he explains, "yet how many people actually know what a Jew is? What do we do, how do we live? It is not even a question of religious or historical issues, but of social aspects and a shared life characterised by respect and understanding. It is precisely this kind of exchange that we need, especially in view of the fact that anti-Semitism is on the rise again." The campus aims to strengthen the presence ofJewish life and show how we can live together and learn from one another in a pluralistic society. "That's why the campus was created - not to critically engage with the past, let alone to enter into a theological dispute. Incidentally, that is exactly why there is no synagogue on the premises."
 Rabbi Teichtal had the idea for the 40 million euro project back in 2013. For years he was the community rabbi of Berlin's Jewish community. And he has certainly achieved a lot: In 2007 for example he set up a Jewish education centre that is now one of the biggest of its kind in Europe; he also built a modern ritual bath and established a Jewish student centre. In setting up the Jewish Campus, Rabbi Teichtal has now realised a long-held dream that has attracted attention far beyond the city's boundaries and was funded not only by the Pears Foundation, but also by the German government, by the state of Berlin and by numerous other donors. There is great interest in the project – Juliane Seifert, state secretary at the Federal Ministry of the Interior, Berlin's Governing Mayor Kai Wegner, Israel's Ambassador Ron Prosor, Josef Schuster, the president of the Central Council of Jews in Germany, and Sephardi Chief rabbi of Israel Yitzhak Yosef were among the guests at the opening.
Although construction of the campus was quite a feat in itself - it took just five years for it to open after the foundation stone had been laid - the real work only begins now, as the concept has to be accepted by the people of Berlin. The first two months at least have already surpassed Rabbi Teichtal's expectations: "Since the official opening, we have had many visitors who have approached us to assure us of their support - and the overwhelming majority, some 80 to 90 percent, are not even practising Jews. Now that the school year is beginning again in Berlin, the building will be additionally filled with life thanks to the schoolchildren from our community."