"Women are needed"
Religions for Peace: Minister of State Michelle Müntefering on the importance of religion for peace.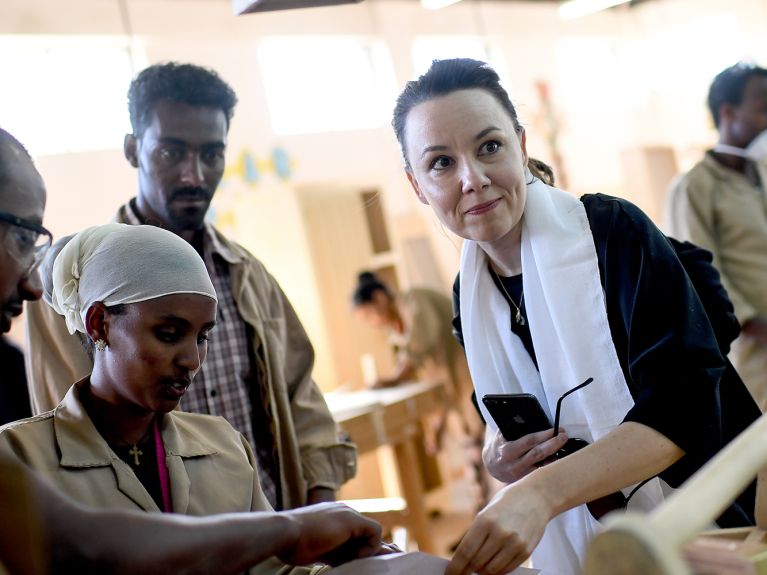 Minister of State Müntefering, for several years now the Federal Foreign Office has been increasingly involving religious leaders in dialogue. What can religion achieve in foreign policy?
Foreign policy does not only mean countries having to work together, but also people understanding one another and communicating with one another. Not all people are religious. Belief or non-belief does determine whether someone is a good or bad person. Nevertheless, the fact is that almost 85% of the world's population feel they belong to a religion. Faith communities are part of society; they have authority and influence the social discourse. It is a human right to belong to a religion – and also not to belong to one. The human right to religious freedom is under pressure. That is currently also shown by the report on the global state of religious freedom.
Religious leaders bear responsibility, and many of them all over the world support religion bringing people together, not dividing them. That is important, because a look back in history shows that religions have been instrumentalised again and again. Now, too, we are experiencing – among other places, in Europe – how attackers are misusing religion for their inhuman ideologies. However, hate is not compatible with any religion in the world. Precisely because of that it is important to show what religion and religious communities mean for our communal life. We would like to shift the focus onto the peace-making power of religious faith, charity and solidarity and build a bridge between countries. After all, faith is boundless. That can help. In concrete terms, through our work at the Federal Foreign Office we want to address religious communities with regard to their responsibility for peace, to better understand their possible influence and strengthen their constructive potential.
In 2020 special emphasis is being placed on the subject of Women, Faith and Diplomacy. The topic builds on UN Resolution 1325, which says women are to be involved equally in peace negotiations, conflict mediation and the work of reconstruction. How can the Federal Foreign Office promote participation?
Women are needed. Unfortunately, even today, they rarely hold leadership positions in religious communities. Nevertheless, they take responsibility for a large share of socially oriented tasks. Especially now at a time of pandemic we considered it important to strengthen social cohesion and also to support small, very concrete projects by German church communities around the world. We have therefore set up an unbureaucratic fund. It has provided support for seniors' homes in Helsinki, for example, and digital services for kindergartens, for example in Tel Aviv. It was and is often women who keep things running in these fields. Here, too, however, there is an even stronger need for real gender-sensitive approaches. We also need initiatives to more strongly highlight women's contributions in religion and diplomacy – in the way that Religions for Peace is now doing.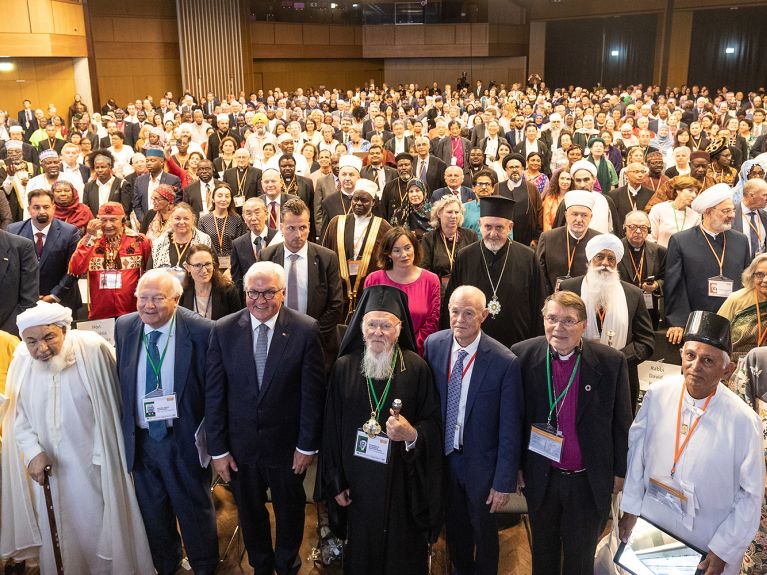 The interreligious organisation Religions for Peace has become an important partner of the Federal Foreign Office. How do you work together?
Religions for Peace has a worldwide network of religious leaders and Interreligious Councils that do wonderful work in their countries under often difficult conditions. It is important for us to get to know these actors and their peace and social policy work and to work with them.
Why are women so important in peace processes – and is this aspect even stronger when it comes to religion?
Did you follow the live video stream of the general debate at the United Nations this year? You could easily gain the impression you were experiencing déjà vu. Endless rows of black suits were on view. Twenty years after the adoption of UN Resolution 1325 and 25 years after the Beijing Declaration women's voices are still underrepresented not only in diplomacy and politics, but also in business and in the religious context. And yet we know that women actively work for peace and human rights all over the world and that peace is more stable when they are involved in conflict solutions. Women of faith are frequently at the forefront of social engagement, mediation and conflict resolution, but they are all too often not measured in terms of their ideas or their efforts, but of stereotypes and clichés. Yet we need their viewpoint and their competencies – also and especially in leadership positions.
Which women have especially impressed you in that respect?
During the Munich Security Conference this year I had the opportunity to talk to Hamsatu Allamin. She comes from Nigeria. Since her oldest son was abducted by Boko Haram she has campaigned as a peace activist and looked after victims of Boko Haram violence. At the same time she attempts to engage in dialogue with former fighters. She is one of the women who are convinced that religion is an inspiration for peace and solidarity, not for hate and exclusion.