03.05.2017
Festival Summer 2017
Pirates and singers, fascinating films a river in flames: Germany's Festival Summer 2017 has a wealth to offer. The highlights.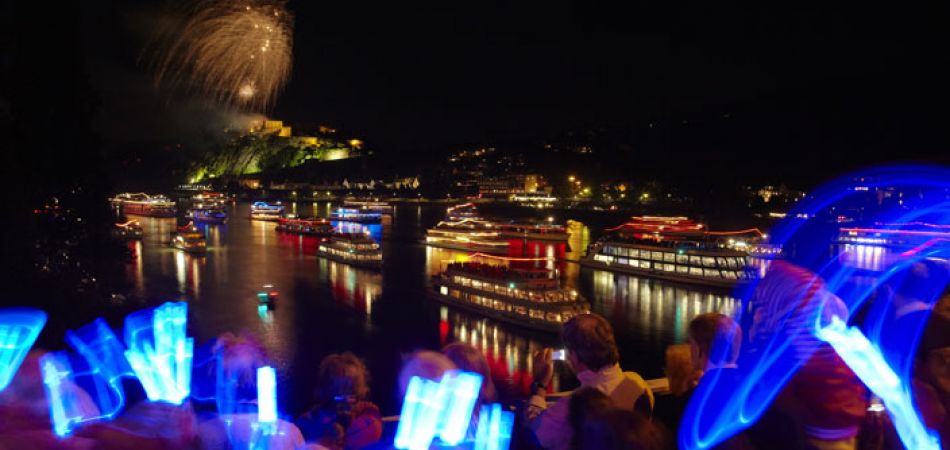 Rhine in Flames
In the glow of the red Bengal lights, the vineyards, castles and fortresses stand out against the dark night sky. A brightly illuminated fleet of festive ships glides gently along the river. And suddenly a glittering shower of sparks cascades above the riverside promenade: the spectacular firework display Rhein in Flammen is an annual event that takes place along the section of the Rhine between Bonn and St Goar. If you want to witness the grand German river in festive flames, it is best to book tickets on a ship. (6 May to 16 September)
Munich International Film Festival
Anyone who thinks that the summertime is not cinema time, has yet to visit the Filmfest München. Enjoying an ice-cream beside the River Isar between films, or relaxing at a street café before entering the refreshingly cool cinema: this contrast between air-conditioned darkness and warm, bright sunshine defines the charm of one of Europe's largest summer film festivals. There are screenings of around 200 films from 40 countries, and of course stars on the red carpet. (22 June to  1 July 2017)
Störtebeker Festspiele Rügen
The classic pirate tale: more than four million visitors have watched the biggest open-air theatre performance in Germany, which has been staged at the Freilichtbühne in front of Ralswiek Castle since 1993. The play about Germany's most famous pirate Klaus Störtebeker includes more than 150 actors, 30 horses and riders, four ships and all kinds of special effects. (24 June to 9 September 2017)
MDR Musiksommer
The three federal states of Saxony, Saxony-Anhalt and Thuringia are staging 43 summer concerts ranging from classic to jazz and folk under the motto Drei Länder – ein Klang (three states – one sound). The three states are inviting guests to visit a variety of event series, such as Luther Sites or Concerts at the Wartburg, which are being staged at 37 venues. These include monasteries, museums, castles and the Rotkäppchen sparkling wine factory, which visitors can explore on guided tours before the concerts start. (24 June to 27 August 2017)
Bardentreffen in Nuremberg
Maybe the name 'The Meeting of the Bards' sounds like an annual medieval market, but it is really Germany's biggest music festival where admission is free. The Franconian Bardentreffen was founded as a singer-songwriter competition in 1976 to mark the 400th anniversary of the death of the Nuremberg shoemaker and poet Hans Sachs. He is well-known as a character in Richard Wagner's opera The Mastersingers of Nuremberg. Nowadays, a vibrant mixture of visitors and artists gathers in Nuremberg's Old Town to experience this carnival of world music with around 90 performances held on nine stages. (28 to 30 July 2017).