Rock spectacles with a beer pipeline
It's time to get out of those stuffy concert halls! At last, the festival season has begun. This is where you can really rock.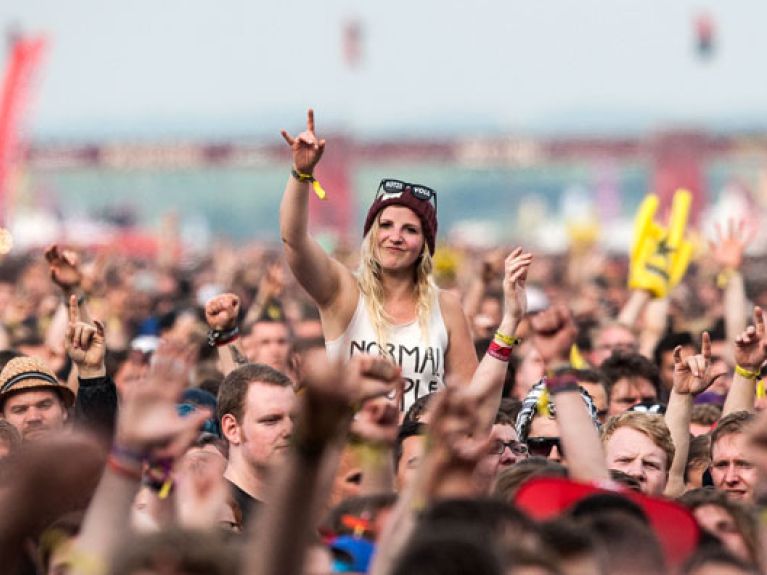 Germany. The bass booms, the sun stings, the crowd sways and the beer flows in buckets – the summary of a festival weekend. Practically nowhere else will you find a more intense music experience. These are Germany's largest rock festivals:
Rock am Ring
Germany's most popular rock event takes place at the Nürburgring, the motor racing track in the Eifel mountains. In 2016, Rock am Ring achieved a one-day record of 95,500 visitors. For many years thousands have packed their camping equipment and made the pilgrimage to the three-day spectacle. The event puts international rock and pop stars on the stage. This year they will include Rammstein and Die Toten Hosen.
Rock am Ring, 2–4 June, Nürburgring
Rock im Park
Nürburgring and Nuremberg: Rock im Park has been organised as the twin festival to Rock am Ring since 1998 – on the same weekend with largely the same performers. The bands commute between the two festival venues. 75,000 visitors have secured a ticket. 
Rock im Park, 2–4 June, Nuremberg
World Club Dome
Dancing to electronic beats: Frankfurt am Main's football stadium becomes the world's largest club for the World Club Dome event. Some 130,000 fans celebrate the transformation. The organisers promise the hippest bands and DJs, as well as "the continent's greatest laser show". Techno maestro Sven Väth will be taking part this year. 
World Club Dome, 2–4 June, Frankfurt
Wave-Gotik-Treffen
Leipzig turns black for Whitsun. That is when the city is visited by the bizarrely dressed fans of sombre Gothic rock. The Wave-Gotik-Treffen (Wave Gothic Meeting, WGT) claims to be the "planet's largest Gothic festival". Some 210 bands and 20,000 visitors are expected for the 26th WGT. The event is not only about music and parties: readings, performances, films and exhibitions demonstrate the breadth of this subculture.
Hurricane and Southside
Yet another large twin festival in north and south: this is where fans of rock, independent and electro music meet. Over 100 bands will perform. The headlining acts are Green Day, Linkin Park and Casper.
Hurricane Festival, 23–25 June, Scheessel and Southside Festival, 23–25 June, Neuhausen ob Eck
Wacken Open Air
Incredible! Mud and metal merge to form a new element at the Wacken Open Air event. The cult heavy metal festival makes the fields of northern Germany shake. 150 bands let the sparks fly under the motto "Louder than Hell". The headlining acts are Accept, Kreator and Megadeath. This year, for the first time, the organisers are laying a beer pipeline to quench the enormous thirst for beer of the expected 75,000 visitors. Wacken 2017 is guaranteed to be a merry affair.
Wacken Open Air, 3–5 August 2017
Overview of other music festivals in Germany
© www.deutschland.de