The League's last secret
Where does the German Bundesliga get its data from?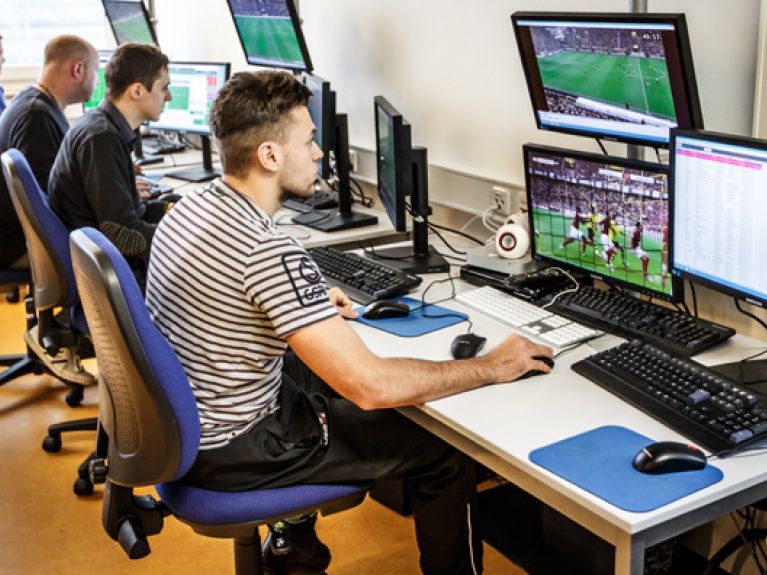 Robert Lewandowski requires the fewest opportunities before scoring a goal. Bastian Schweinsteiger makes the most passes. Arjen Robben has run the farthest. Bayern Munich has the most possession of the ball. For some time now, commentators, TV channels and the media are in a position to quote exact statistics on the players and teams in Germany's Bundesliga. But where do these figures come from? In Germany they are produced by Opta Sport Daten. This subsidiary of the global market leader established in England in 1996 has its offices in Unterföhring, a district of Munich, and provides the media, clubs, associations and companies with exact data on the entire course of a match.
Counting by mouse clicks
These figures are usually collected in front of the TV screen. In Unterföhring three to four analysts per game evaluate possession, passes, tackles, fouls, and shots on goal. The individual moves are determined by mouse clicks. Only the various routes are measured in the stadiums. There are three cameras installed underneath the stadium roofs on each side, ten metres to the right and the left of the half-way line, programmed with special analysis software. These six cameras make a note of every player, recording their paths and the distances they cover over the 90-minute period. There are two tracking operators in the stadiums monitoring the system and helping out if necessary. The reason: The system still has one flaw, namely when one team is celebrating after scoring a goal and the players are hugging one another it can occasionally happen that the cameras lose track of the individual players in the tumult. They then need to be put back on track by mouse click. The data is passed on live to subscribers to the service and directly to the live scores on various soccer portals. Some 2,000 activities per game.
The company's daily business is to prepare the data for the media. For example, a few days before every match, TV commentators receive a file containing data and facts on both teams, prepared journalistically and graphically – up to around 100 pages. Moreover, Opta staff visit the studios and the stadiums regularly during matches to quickly provide the commentators with statistics from the archive and their live database. But sponsors also sometimes take advantage of Opta's services. A manufacturer of sporting goods once wanted to know how many attempts players wearing different brands of football boots required before scoring a goal.
The Bundesliga soccer season starts on 22 August 2014