The Afghan community
Some 300,000 people from Afghanistan live in Germany, a large proportion of them in the Frankfurt Rhine-Main metropolitan region. Here you can find out more about how they live and what they have in common.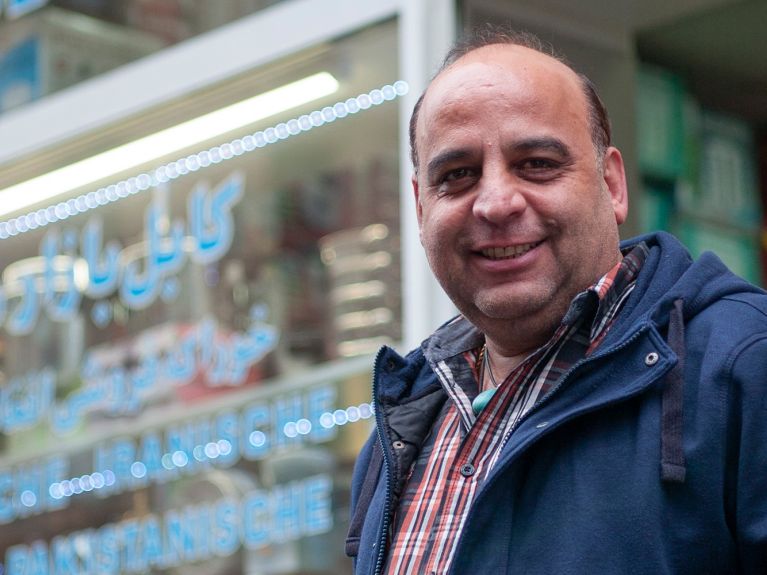 Jamila Hassan was nine years old when she left. Her father, a respected mathematics professor, had been taken away and tortured. Out of pure fear the family saw no other alternative than paying people smugglers to take Jamila to relatives in Europe. However, they simply left the little girl who didn't know any German alone at Hanover Airport in Germany. While still at the airport a woman agreed to take her in as her foster mother for a time until the child eventually found her family again in a refugee camp in eastern Germany.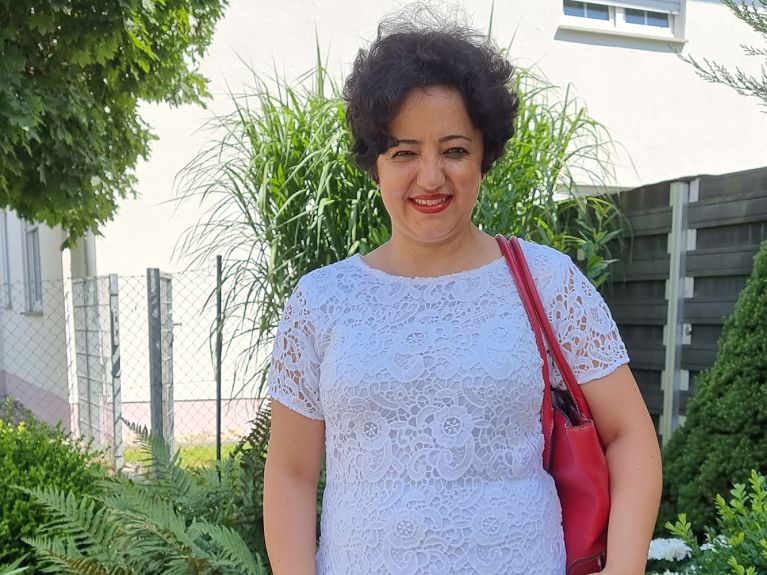 There she first went to secondary school, where she was one of the best students, then attended technical school and high school where she passed the Abitur exams that eventually allowed her to study medicine. Jamila became an executive senior physician with several specialist qualifications and has worked at various hospitals in the Rhine-Main region. She is now in the process of founding her own specialist medical care centre for older people with a number of colleagues in the south of Frankfurt.
Few ties with the home country
Departure has shaped the stories of many Afghans in Germany. Some 300,000 people from Afghanistan live in Germany and a good 230,000 of them have personal experience of migration. A large proportion of them live in the Frankfurt Rhine-Main metropolitan region, above all in Offenbach, Darmstadt and Frankfurt. According to evaluations by experts, Afghans form one of the best integrated minorities in Germany.
Jamila says she has never been back to Afghanistan. She abhors all forms of religious fanaticism, which now again has the country firmly in its grip. Her husband also stems from Afghanistan; he is a social worker. Both of them are very well integrated in Germany. "But I love Afghan cuisine. I take great pleasure in the food," she says. Her insider tip is an Afghan food store in Waldstrasse, Offenbach. "They bake totally fresh Afghan bread there and prepare all the specialities, even haleem." Cooking this wheat porridge with chicken is a very complicated process, she explains. "My taste buds are simply tuned to it." If there's not enough time for cooking, the family likes to collect food and prepared meals from Offenbach.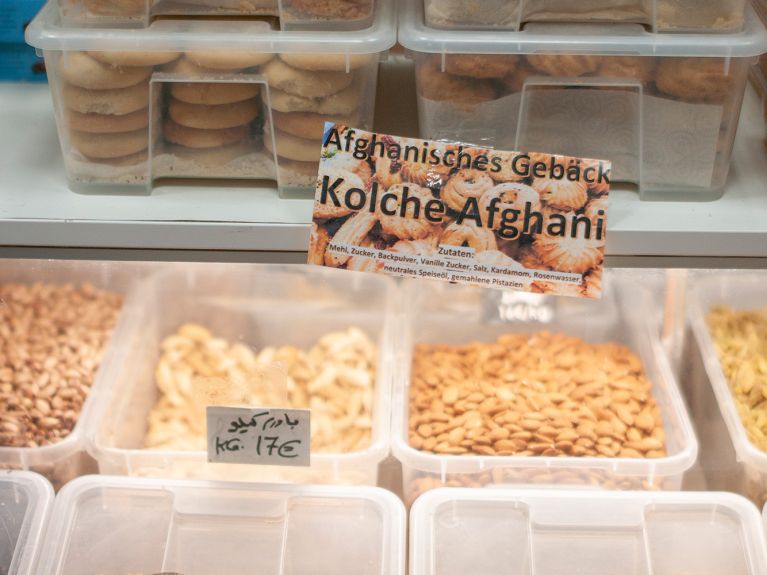 Amil Talwar has been serving many Afghans and Germans with Afghan roots who live in Frankfurt Rhine-Main for 20 years. He offers filled cream rolls, fresh dates, the best rice varieties and a total of six different kinds of raisins to members of the community who stock up on food in Kabul Bazar, his shop near Frankfurt Central Station. Between the food items there are also silver samovars, pots and all kinds of household items. If you ask him about the delicious pomegranates from Kandahar that are supposed to be the best in the world and always used to be available from him in autumn and winter he goes rather quiet. "It's bad at the moment," he says calmly. Because of the situation in Afghanistan he currently can't source any food from there at all; trade has come to a complete standstill. The delicacies he still offers now mainly come from Pakistan.
Sustainable before it became fashionable
Saied Timori is also saddened by current developments in his country of origin. He runs a tailor's and shoe repair shop in Oberursel, north of Frankfurt. He has been the proprietor for seven years; before that he was employed there. The doorbell rings every few minutes because he is highly appreciated for his skilled artisanry. He will put a new handle on even the oldest handbag. Nothing has to be thrown away here. He was practising sustainability long before it became fashionable.
He had to leave home at the age of eight and lived in Iran and Turkey before coming to Frankfurt Rhine-Main 20 years ago. The 46-year-old artisan works ten hours a day so that his son and daughter will have things better. Both of them attend high school. Because he spends almost all his time working he has little contact with other Afghans. But once a month he also travels to Münchner Strasse in Frankfurt to buy tasty raisins and the very best Basmati rice in large bags at Kabul Bazar.
Afghan dishes are cooked at home, although his wife comes from Lithuania. She does his accounts. In the evenings there is rice with chicken and aubergines, lots of grilled food, followed then sometimes by jalebi halva, a sweet dessert. The slim tailor keeps away from Afghan sweets, he explains, because of his figure. His brothers and sisters still live in Kabul. He supports them financially as far as possible. His niece and nephew live over his shop; they came to Germany in 2015 with the first wave of refugees.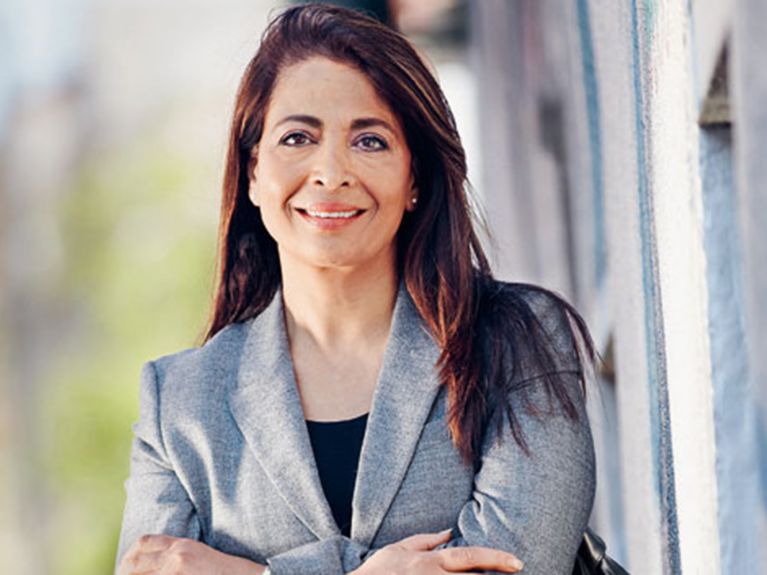 Nadia Qani-Schwarz is probably the best known woman in Frankfurt with Afghan roots. After leaving Afghanistan she first eked out a living with her then husband as a cleaner, checkout assistant and office worker, then brought up her two sons alone and almost 30 years ago founded a culturally sensitive care service. There she now employs move than 50 women with over 30 different nationalities to enable many of the migrants in Frankfurt to live out their lives in dignity in their own cultural and linguistic milieu. For this she was honoured with the Federal Cross of Merit in 2009. Her autobiography is entitled "I am a German woman from Afghanistan" (Ich bin eine Deutsche aus Afghanistan). 
And because the world is very large, but sometimes also incredibly small, Nadia Qani and Jamila Hassan met by chance over 20 years ago at an Afghan wedding in Nuremberg. It turned out that Nadia went to the same school in Kabul as Jamila's mother. And because Jamila had six months to fill before beginning her medical degree in Mainz without further ado Nadia gave her a job in her care service and let her live in her home while she was a student. As a result today the younger woman still calls the older "aunt" although they are actually not related at all. That's how the Afghan community works in Frankfurt.