New encounters as prevention
Interaction helps allay prejudice: This is the premise under which young people from Germany and Israel are heading to Berlin to gather ideas for the joint Youth Office.
Christina Iglhaut / 13.11.2019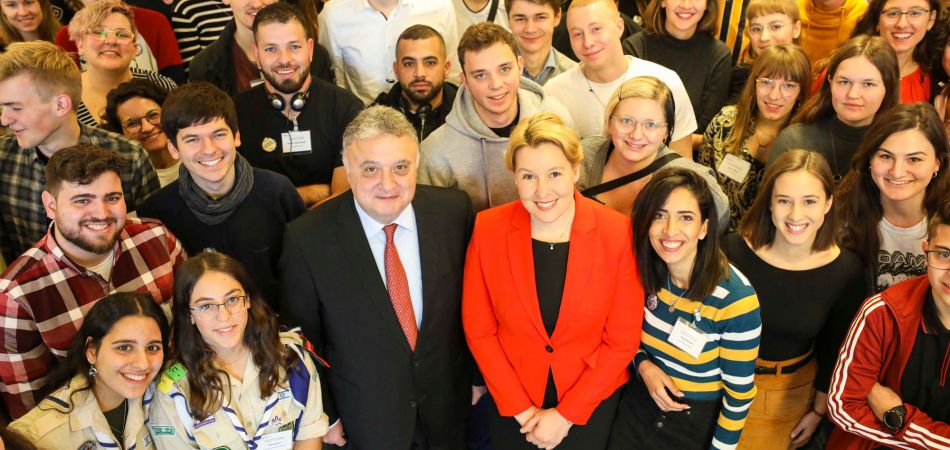 Gathering ideas, developing a shared vision, shaping the future of German-Israeli exchange – these are the aims of the German-Israeli Youth Conference in Berlin. From 10-13 November, at the invitation of the German Youth Ministry around 180 young people from youth, school and volunteer exchange programs will share ideas about the planned German-Israeli Youth Office. What issues really concern young people in both countries? Which topics should form the focus of their exchange?
The conference was opened by Germany's Minister for Youth Dr. Franziska Giffey along with Israeli Ambassador Jeremy Issacharoff. The minister firmly believes that young people can change the face of the world. In her opening speech she emphasized how interaction can help to overcome prejudices and prevent conflict. "We are currently seeing how the tone in our society, in debates and online, is becoming more abrasive. How antisemitism is far from a thing of the past. We need to provide clear, unambiguous answers here. And to do so, we also need prevention. Prevention includes getting to know one another and interacting."
Dr. Franziska Giffey and the Israeli Minister of Education Naftali Bennett decided back in 2018 to expand German-Israeli exchange and establish a German-Israeli Youth Office. In Germany, the bilateral interaction has thus far been coordinated by ConAct – Coordination Centre for German-Israeli Youth Exchange.