1990: What else happened
1990 brought reunification for Germany – but historic events also took place elsewhere in Europe and the world.  We present some facts from the year of German reunification that not everyone will know.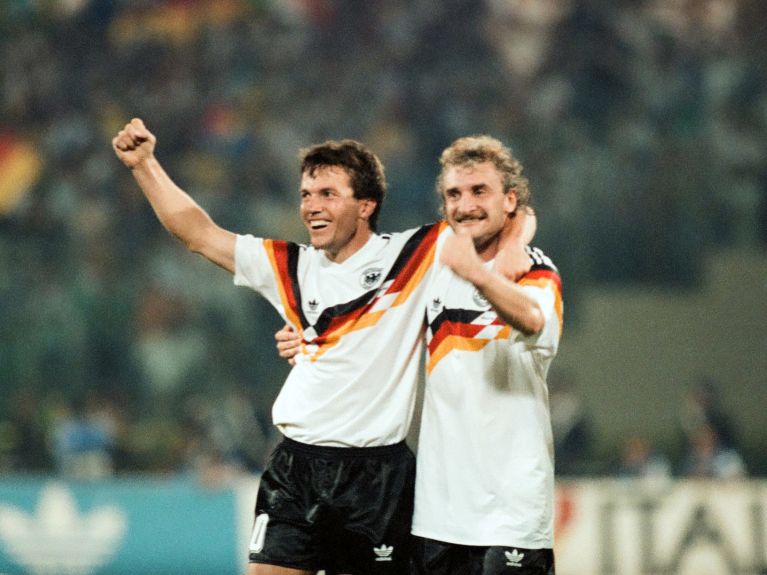 1990 was a year that changed the world. Germans remember 3 October in particular as this was the day on which Germany was reunited. But that was not the only far-reaching event of the year:
Who was the world's most famous prisoner until 1990?
Nelson Mandela. Until 11 February 1990, the day of his unconditional release that also marked the beginning of the end of apartheid in South Africa, the freedom fighter and later president of his country was the world's most famous prisoner.
What did Arved Fuchs and Reinhold Messner achieve?
On 12 February 1990, the adventurers from Germany ended their crossing of the Antarctic on foot after 92 days and 2,800 kilometres.
Where was a free parliament elected for the first time since 1945?
In Hungary on 25 March. Free elections were also held on 8 June in a second former Eastern Bloc country – Czechoslovakia.
Which countries declared their independence?
Estonia started the ball rolling on 4 May of this historic year. It was followed by Lithuania, Latvia, the Republic of Moldova, Turkmenistan, Armenia, Kazakhstan, Kyrgyzstan. Namibia followed suit in Africa, gaining its independence from South Africa.
Which historic treaty was concluded by several EU states?
In signing the Schengen Agreement on 19 June 1990, the Benelux countries, France and Germany agreed to open their borders and abolish checks from 1995.
Where did the only rock concert take place in two countries at the same time?
On 21 July, Roger Waters staged "The Wall" at Potsdamer Platz in Berlin – in two countries: half in West Germany and half in East Germany. Around 220,000 tickets had been sold, and because a further 100,000 to 150,000 people were standing outside the gates, the barriers were opened.
Which war overshadowed this year's peaceful new beginnings?
On 2 August 1990, the Second Gulf War began when the Iraqi army invaded Kuwait.
Who was the first freely-elected president of Poland since the Second World War?
Lech Wałęsa won the presidential election in Poland on 9 December 1990. The strike he led in Gdansk in 1980 heralded in the transformation process in Europe that reached its successful conclusion in 1990.
And finally, two important prizes were awarded, plus one sporting title.
Mikhail Gorbachev was awarded the Nobel Peace Prize, the Mexican author and poet Octavio Paz won the Nobel Prize in Literature, and Germany won the Football World Cup in Rome.
You would like to receive regular information about Germany? Subscribe here: