A date with Europe
Fancy taking a look behind the political scenes in Berlin? An open day gives visitors the opportunity to explore. 
24.08.2017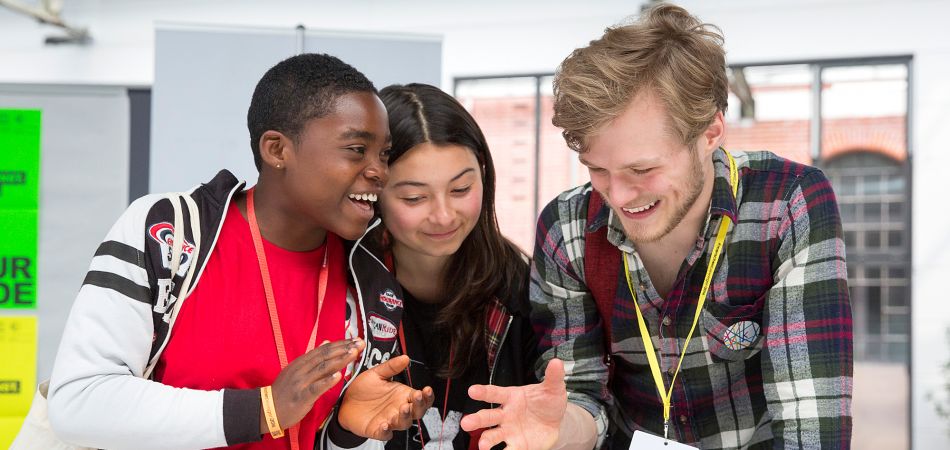 Germany. What lies ahead as regards Europe? And what kind of Europe do we really want? At an open day at the Federal Foreign Office, visitors will be able to discuss these questions and find out about the work done there. A Citizens Forum with Foreign Minister Sigmar Gabriel and the Foreign Policy Live event will give citizens and politicians the chance to talk directly with one another.
What is there to discover?
Germany's Federal Foreign Office will be opening its doors to the public and presenting its international work on 26 and 27 August 2017. During the tours, you will have the opportunity to find out what lies hidden beneath the carpet in the office of Foreign Minister Sigmar Gabriel and who used to hold conferences right next door in the historic Bismarck room. In the Inspiring People lounge area, you can learn more about the mediators and partners involved in German cultural relations and education policy – with representatives present ranging from the Alexander von Humboldt Foundation and the Goethe-Institut to the German Academic Exchange Service and Central Agency for Schools Abroad.
What's on the programme?
A mixture of entertainment and fascinating political discussions: for example, Dr Peter Wittig – Germany's ambassador to the United States of America – will be answering questions about German-American relations. Jaafar Abdul-Karim will be presenting "Shabab-Talk", a Deutsche Welle broadcast popular in the Arab world, from the Weltsaal of the Federal Foreign Office. Poetry slams, an eBook competition, a Europe quiz and a Young Euro Classic musical flash mob will make for a diverse programme.
AArtist-in-Residence programme
Kerstein Honeit, last year's AArtist-in-Residence, presented her studio on the roof of the Federal Foreign Office at the 2016 open day. Now the video project she was working on at the time is finished. Visitors can view "my castle your castle" and then talk to the artist about it.
Time for a break and something sweet
Nobody will have to go hungry at the Federal Foreign Office: the Berlin-Brandenburg bakers' guild will be joining bakers from Germany and neighbouring countries to present a huge Europe cake – delicious and ready to enjoy.
DIE ZEIT Legacy Study
How are we faring in today's world? What kind of society do we want future generations to have? And what do we expect from tomorrow's world? These questions were answered by 3,000 people during interviews that form part of the "Legacy Study" conducted by German weekly DIE ZEIT, the infas Institute for Applied Social Sciences and the Berlin Social Science Center (WZB). In cooperation with the German Film Academy, the Federal Foreign Office has launched a film project that will see film students from all universities or similar training institutions in Germany making short films about the subject. Those responsible will be using selected films to present the project in Berlin.
Meet deutschland.de
Our deutschland.de portal will also be present at the two Open Days at the German Federal Foreign Office. Visitors are cordially invited to come to our booth and chat with the editorial team and discover the themes and interactive features on the newly-designed Website – there'll be tablet PCs at hand where you can surf it. We've set up our photo booth for funny and creative snapshots with Germany accessories.
On both days, we'll be broadcasting several agenda points in a Livestream on our Facebook channel including the civic forum with Federal Foreign Minister Sigmar Gabriel on Sunday from 1.45 p.m. onwards.
Visiting Villa Borsig
Villa Borsig in Tegel, which is where the foreign minister and the Foreign Service Academy accommodate their guests, will also be opening its doors on both days. There is much for visitors to discover and learn about the Foreign Service Academy in this idyllic setting.
And if I cannot be there?
On Sunday at 1.45 pm there will be a talk with Federal Foreign Minister Sigmar Gabriel and visitors. Follow the forum live on Facebook.
Open day at the Federal Foreign Office on 26 and 27 August 2017