Bavaria in Tel Aviv
The Free State of Bavaria is aiming to consolidate its good relations with Israel – and now has its own representation in Tel Aviv.
The Mindspace building in Tel Aviv: a meeting point for young inventors and innovative start-up entrepreneurs. One of the doors here has recently gained a Bavarian coat of arms. In March 2018 the Free State of Bavaria's Office for Economy, Science, Technology, Education and Youth Exchange took up residence here – and is thus now at the heart of Israel's start-up metropolis. Georg Eisenreich, the Bavarian State Minister for Digital Agenda, Media and Europe, is hoping this base will lead to one thing above all: stronger partnership.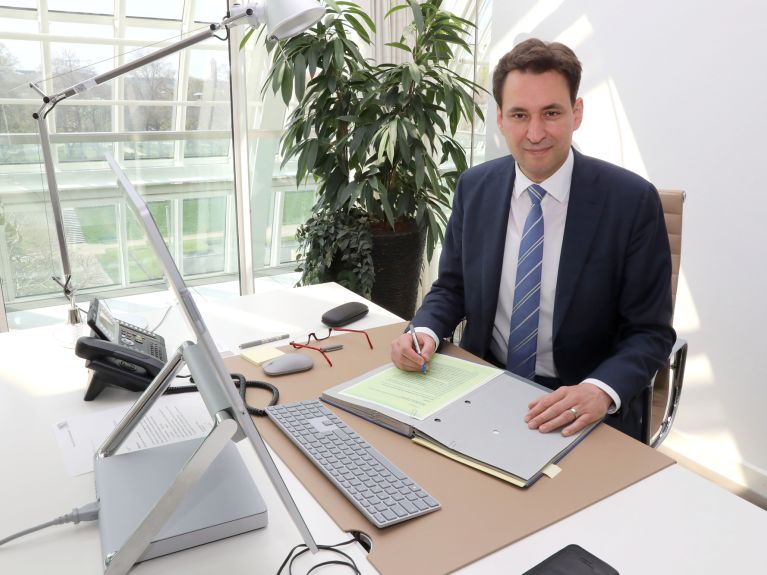 Mr. Eisenreich, why does the Free State of Bavaria need its own office in Tel Aviv?   
The main task of this office is to cultivate Bavarian-Israeli relations in culture, education, science and technology, so the topics it covers are wide-ranging. The office is intended as a thematically broad-based port of call to help foster Bavarian-Israeli cooperation. 
That really is a very broad range of topics, but you'll no doubt focus on certain areas, won't you?
In terms of science and technology we are primarily concerned with exchanging knowledge in the area of digitisation and research – for example at university level. Where the topic of the economy is concerned, the office is intended to act as a bridge between economic players in Bavaria and those in Israel. For medium-sized Bavarian companies in particular, Israeli technologies and innovative processes represent significant value added. Another area of focus is youth exchange. I am convinced that exchange between young people from Bavaria and Israel helps to further strengthen Bavarian-Israeli friendship. It's important that the young people of today perceive this friendship as something valuable so that they can then pass on this feeling to future generations. Thus, in full awareness of our past, we can forge a future of friendship and unity.
Bavaria is the first German federal state to open its own office in Israel. Why is exchange with Israel so important to Bavaria in particular? 
I am very happy to be able to say that the partnership between Bavaria and Israel is a close one and is firmly established. There are intense economic ties – a Bavarian representative office for business was opened in Israel back in early 2009 – as well as good collaboration in many other areas. These include 20 collaborations with universities alone, for example. There has been an Israeli General Consulate in Munich since 2011, and France and Germany are the only European countries in which Israel maintains a second representation in addition to its embassy. With the office in Israel, we hope to intensify the exchange between Bavaria and Israel and further expand cooperation. Our aim is to intensify and increase the visibility of the special relations Bavaria has with Israel. 
What are the next steps?
In the near future, we look forward to getting into the specific project work, cultivating relationships, launching projects and keeping them going.