Women's interests
The Women20 summit in Berlin made a clear statement for strengthening women in commerce, for more participation and equal rights.
08.06.2017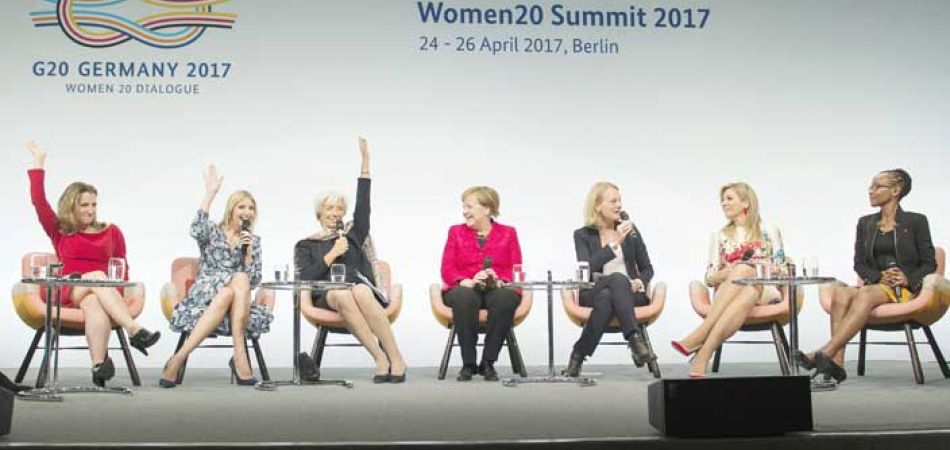 Sucharita Eashwar is happy. "We have achieved more than I expected," says the Indian with pride after two days of intensive work at the W20 summit in Berlin. "W" stands for women and 20 for the most economically important countries of the world. Ana Fontes from Brazil is also impressed. "I often sent a WhatsApp to my two daughters at home telling them about this brilliant event." Both entrepreneurs are particularly committed to women's advancement. And both have the feeling that they have turned the wheel of history that little bit 
further during this summit in late April 2017.
Commitment and lively debate
The W20 conference with almost 100 women from many countries and all sections of society is one of the dialogue forums in the run-up to the G20 summit in early July in Hamburg. For Sucharita Eashwar and Ana Fontes the conference was something very special. This was thanks to the excellent organ­isation by the Deutscher Frauenrat (National Council of German Women's Organizations) and the Verband deutscher Unternehmerinnen (Association of German Women Entrepreneurs) and the well-conceived design of the conference. Yet it was the committed participants who played the leading role – among them many well-known women. In addition to German Federal Chancellor Angela Merkel and Minister for Family Affairs Manuela Schwesig, attendees included Queen Máxima of the Netherlands, Head of the International Monetary Fund Christine Lagarde, Canada's Foreign Minister Chrystia Freeland and from the USA Ivanka Trump, "First Daughter" and White House adviser.
At a High-Level Panel the famous ladies captivated the summit participants and representatives of the international press in the hall. Despite all the progress made, they emphasised that there is still much to be done for women's interests even in the 21st century. On this point they were united: in the face of physical violence, legal disadvantages and the continuing problem of too little participation in economic and political life in most countries of the world. One of the greatest obstacles for women, according to the speakers, is access to loans. When Federal Chancellor Merkel announced her intention, in the context of G20, to establish a multi-billion-euro fund for women entrepreneurs in poorer countries she earned broad support on the panel – and the audience's favour.
Glamour and hard work
The moderator's request for a show of hands from those who consider themselves feminists made for a good atmosphere in the hall. Some (Lagarde, Freeland) raised their hands more enthusiastically than others (Merkel, Máxima). Subsequently, in Solomon-like fashion, Queen Máxima defined the term feminist as someone "wanting equal rights and free choice" – a statement that garnered applause from the audience. "Then I am one", Merkel responded brightly and on behalf of all those who are shy of the term. When the VIP panel discussion ended after 90 minutes it had ennobled the summit in its own way.
"It was incredible," said Ana Fontes later on. "I thought the Chancellor's presence was very important," noted Sucharita Eashwar. Yet alongside the glamourous celebrity panel the participants had work to do. After all, that is why they came to the W20 summit. The conference was one of seven dialogue forums on various topics taking place in the first six months of 2017 in Germany in preparation for the G20 summit. They are intended to give members of civil society the opportunity to feed their interests into the G20 process and thus to make the summit a success with tangible results. Women getting involved in this way is very new. After W20 meetings organized by Turkey and China, the conference in Berlin was only the third. Yet the G20 was established back in 1999. Its express goals include creating or maintaining economic and financial security.
Progress and a lot of catching up to do
Although they make up more than 50 percent of the human population, until three years ago women were barely able to influence the final documents of the powerful global leaders. Especially since they are seldom among those in government: Today some 20 women lead a government worldwide. Although this number is on the rise, they still constitute a minority on the international "family portraits". Many of the G20 states have never even had a woman at the helm. As such, for many years there was never much room for women's issues in the context of G20. Yet there is no doubt that women constitute a decisive factor for global economic advancement. McKinsey has calculated that with the integration of women in working life, global economic growth until 2025 could increase by no less than eleven percent a year. Were the so-called "gender gap" to be closed completely, an increase of 26 percent would even be conceivable. "Women boost the economy, which is why they must not be excluded", says Australian academic and W20 participant Susan Harris, who conducts research on gender issues.
Nonetheless, the reality is somewhat different. In more than 150 states equal rights do not even exist on paper and there is at least one discriminatory law – this number was also cited in Berlin. To say nothing of the everyday exclusion that millions of women face, and not just on the job market. There is even catching up to do in Australia, claims Susan Harris: Only 20 percent of members of parliament are women.
Ana Fontes reports a similar story in Brazil. The economy there is "a man's world", says the former automobile-industry manager. That is why she opted for self-employment and set up her first small firm. "But I made lots of mistakes and had no-one to ask for advice." In 2010, she founded "Rede Mulher Empreendedora" in São Paulo, the first and largest network for self-employed women in Brazil with 300,000 members. Indian entrepreneur Sucharita Eashwar launched a similar initiative in Bengaluru called "Catalyst for Women Entrepreneurs". She too wishes to support women entrepreneurs. Getting loans is the biggest problem for women, she says. Ana María Sánchez, President of the oldest association of women entrepreneurs in Mexico, agrees: "Women need access to finance – and more knowledge of the financial markets."
Because together with Ana Fontes, Susan Harris, Sucharita Eashwar and Ana María Sánchez the other roughly 100 participants also saw this as a critical point, it features prominently in the final document of the conference. In it, the women call for "full access for women on equal terms to productive and financial resources." Plus: equality regarding property rights, before the law, in the 
labour market, equal pay for work of equal value and equal educational opportunities, in particular with a view to digitisation, and protection against violence. The concisely formulated document was the product of months of work in the run-up to the summit, with much discussion taking place electronically. The final touches were made in Berlin and a final vote of approval held before it was handed to Chancellor Merkel on the second day, in the hope that as much as possible of its content finds its way into the G20 final document.
"The chances of that are better than ever," comments Susan Harris. Indeed, the facts speak for themselves anyway, she adds: Perhaps the famous women proponents in Berlin have given the whole thing a new dynamism. Sucharita Eashwar likewise hopes that the prominent guests have lent the summit a new effectiveness in addition to greater visibility. "I am hoping for a G20 document that is strong on women's interests." Mona Küppers from the Deutscher Frauenrat, as one of the event's organ­isers, is somewhat more forthright in summarising the goals of the W20 conference: "Gender equality must move to the centre of the G20," she says. "We want to move from the side table to the negotiating table." If that were to happen, the wheel of history would have turned more than just a little. //