Boundless courage
They risk their lives for their ideals: Fifteen strong women and men receive the Franco-German Prize for Human Rights and the Rule of Law.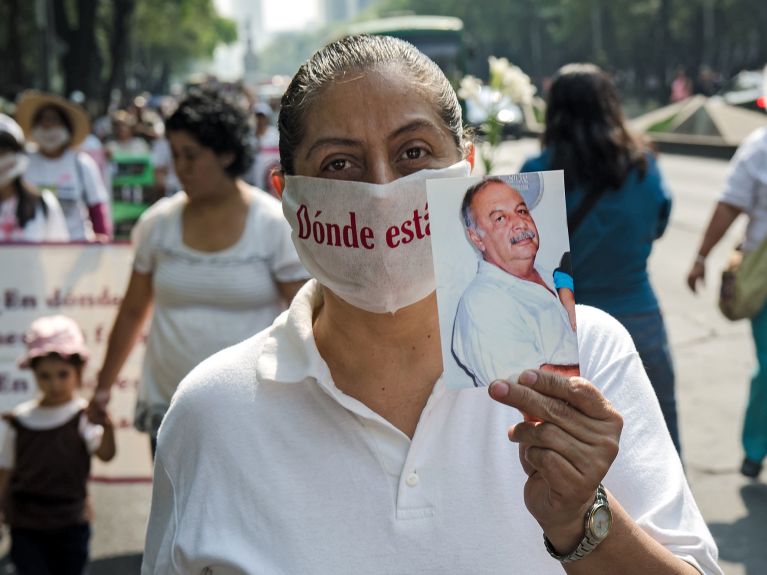 They stand tall for freedom of the press, the protection of women and better detention conditions: Human rights activists worldwide endure great hardship in pursuing their goals. They often live under constant threat or have themselves already been victims of violence. The Franco-German Prize for Human Rights and the Rule of Law honours their courageous, selfless action.
Pointing the way
On the occasion of Human Rights Day on 10 December, Germany and France are honouring 15 remarkable women and men. With the prize, now being bestowed now for the second time, the partner countries wish to point the way for human rights and the rule of law worldwide. The prize-winners are to receive the award in their respective countries, where it will be officially presented to them by the German and French Embassy. Here we present four of the prize-winners, by way of example.
Adilur Rahman Khan, Bangladesh: As Chair of the human rights organization "Odhikar", the legal expert is committed to enabling poorer sections of society access to the legal system. He also publicizes cases of forced disappearance, torture and extrajudicial killings. He was himself abducted in 2013 and detained for more than 60 days.
Gracia Violeta Ross Quiroga, Bolivia: The human rights activist was a victim of sexual abuse and is HIV-positive. She is National Chair of the Bolivian Network of People Living with HIV and AIDS (REDBOL) and champions the right to healthcare provision and gender equality. Ross Quiroga is internationally active in the fight against HIV, tuberculosis and malaria.
Nounongnon Balbylas Gbaguidi, Benin: As Chair of the National Human Rights Coalition of North Benin and country coordinator of "Prisoners without Borders", the former teacher works to secure better prison conditions, particularly for women and minors. As such prisoners get better access to medical care, legal advice and practical assistance reintegrating into society.
Elena Milashina, Russia: Milashina is an investigative journalist at the independent Russian daily "Nowaja Gaseta". Since the murder of Anna Politkowskaja in 2006 Milashina has been researching and reporting for the newspaper on the grave human rights violations in Chechnya. In April 2017, for example, she uncovered a wave of persecution of homosexuals in the state. She received multiple death threats.
Further prize-winners: Ragia Omran (Egypt), César Ricaurte (Ecuador), Abdullah Al Khonaini (Kuwait), Bekim Asani (Macedonia), Mandira Sharma (Nepal), Grace Idaehor Osakue (Nigeria), Rosemarie R. Trajano (Philippines), Shreen Abdul Saroor (Sri Lanka), Kerem Altiparmak (Turkey), Pavlo Lysianskyi (Ukraine), Liliana Ortega Mendoza (Venezuela).