12 dead and 48 injured in what is presumed to have been a terrorist attack in Berlin
On Monday evening, an as yet unknown man deliberately ploughed a lorry through Berlin's Christmas market, killing many people.
20.12.2016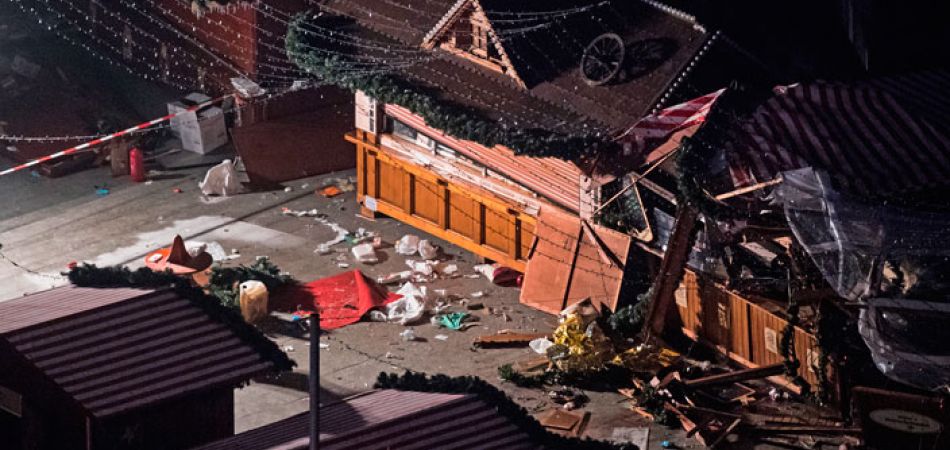 It was shortly before 8 p.m. on Monday evening when what many had long feared became a reality in Berlin: The capital became the target of an attack that is presumed to have been carried out by terrorists. 12 people lost their lives and 48 were injured when an unknown man ploughed an articulated lorry right through the middle of the Christmas market around Gedächtniskirche. It brought to mind the terrorist attack in Nice, when on France's national holiday this year a man drove a lorry at high speed into the crowd, killing at least 80 people. Now terror has come to Germany's capital city.
"It is a terrible night for Berlin and for our country," were the words with which German Federal President Joachim Gauck commented on the horrific attack on Monday night. While the police and German Federal Minister of the Interior Thomas de Maizière on Monday night described the attack as an "incident", there was little doubt by Tuesday morning: On Twitter the Berlin Police spoke of a "presumed terrorist attack". The lorry had "deliberately been driven into the crowds on the Christmas market on ‪#Breitscheidplatz", the officials wrote.
Shocked and lost for words
On Monday evening, around 8 p.m., the black lorry was initially in Berlin's City West driving along Budapester Strasse when it suddenly turned off and drove straight into the Christmas market on Breitscheidplatz. A police spokesman later said the lorry had "cut a swathe through the Christmas market" of some 60-80 metres. The lorry destroyed several stands, killing people in the process. According to the police, a suspect who had tried to flee was caught soon afterwards while the man in the passenger seat in the lorry, possibly the victim of a kidnapping, was found dead in the cab.
People in Berlin and on social media are shocked and lost for words. Shortly after the attack Facebook installed a Safety Check where users could post that they were safe. Many users replaced their profile pictures with a black square to express their sorrow and condolences – among them German Federal Foreign Minister Frank-Walter Steinmeier and Deputy Chancellor Sigmar Gabriel. The Berlin Police dept. has been keeping citizens updated via Twitter and set up a hotline for enquiries. People laid wreaths of flowers around the Gedächtniskirche. The ruined spire is a monument to the horrors of the Second World War and an important landmark in west Berlin.
Toward midday the state ministers of the interior will be meeting to discuss how to make Germany's Christmas markets safer – or what measures can be taken. Last night, there was some talk of closing the Christmas markets. What is certain is that they want to find a uniform solution for all of Germany's Christmas markets. Most of these close shortly before Christmas; the popular market around the Gedächtniskirche with its 170 decorated stands is, by contrast, scheduled to run until 1 January 2017.