Beautiful beaches in Germany
The North Sea, the Baltic Sea and lakes invite you to swim and sunbathe.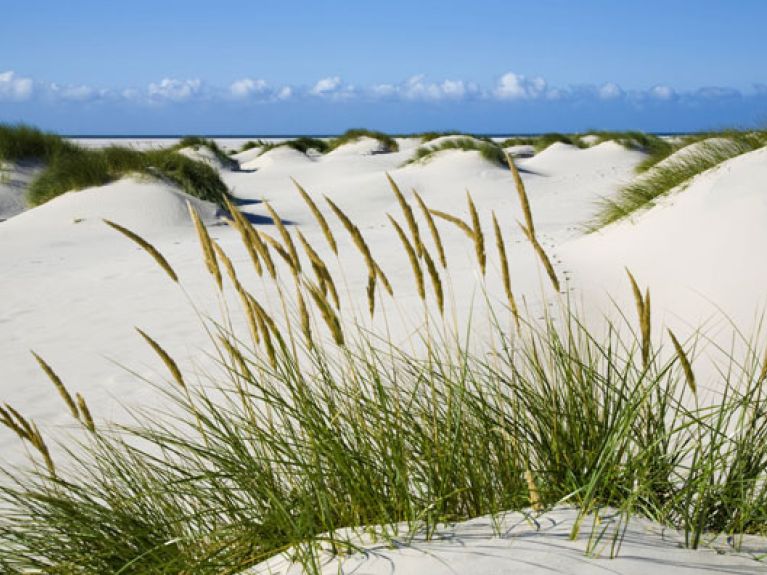 Sylt
Sylt, Germany's northernmost island, is dubbed the "Queen of the North Sea" and often makes the headlines because of its prominent visitors. But there is room for everyone to find a pleasant spot on almost 40 kilometres of sandy beaches. For instance, at the section of the beach called Buhne 16 at the seaside resort of Kampen. This is where theCEO can be found sunbathing next to the plumber, the extended family next to the top model.
Bay of Lübeck
This Baltic Sea bay is famous amongst sailing fans, especially because of the Travemünde Week which is the world's second largest sailing ship event. But whether or not the wind is blowing, the wonderful beaches in Scharbeutz or Timmendorf, Grömitz and Pelzerhaken are still just as attractive. In fact the beach at Sierksdorf is a perfect dream for romantics who love coastal cliffs and nostalgic thatched cottages.
Usedom
Elegant spa resorts, such as Heringsdorf and Ahlbeck, or maybe the lively seaside towns, such as Trassenheide and Zinnowitz? The choice of beaches on Germany's sunniest island Usedom in the Baltic Sea is simply a matter of personal taste. The 45-kilometre-long beach with its wonderfully fine sand offers plenty of room for all of the sunseekers. And with a little bit of luck you might even discover a piece of amber on the beach - the "gold of the Baltic Sea".
Wannsee
Once upon a time at the beginning of the 1950s, Connie Froboess sang the hit "Pack your swimsuit", a cheery tune about a group of children going swimming on a hot summer's day at Berlin's famous lakeside beach, the Strandbad Wannsee. Located on the eastern shore of the Wannsee, it is Europe's largest lakeside bathing facility and was founded in 1907. On a hot summer's day up to 12,000 visitors can be found enjoying themselves and relaxing on the sandy beach that is over one kilometre long.
Chiemsee
Bavaria's largest lake, also nicknamed the Bavarian Sea, offers many commercial beach facilities for water lovers, as well as open beaches that are free for all to use. For instance, the Strandbad Übersee on the south-