Halftime assessment in the Security Council
Germany has been a member of the United Nations Security Council for a year now – the Federal Foreign Ministry undertakes a halftime assessment.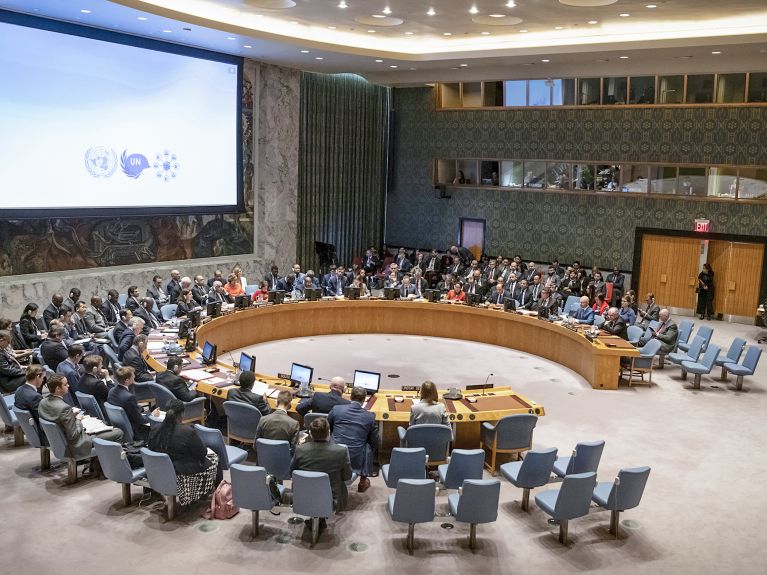 Whether it be the fight against sexual violence, or disarmament, Germany has used the first year of its term on the UN Security Council to advance key issues. The second year's focus will be on disarmament, crisis prevention and preserving the international order.
Resolution 2467: united against sexual violence
"During the first year of our UN Security Council membership, we have advanced key issues", said Foreign Minister Heiko Maas. For example, Resolution 2467, which was sponsored by Germany, created a foundation for combating sexual violence in conflicts and holding those responsible to account. The resolution puts the victims and survivors of sexual violence centre-stage for the first time. This includes ensuring access to legal remedies at the national level as well as safeguarding the livelihoods of those affected.
Disarmament is back on the agenda
Maas went on to say, "Together with France, we have used the months of our chairmanship to make sure that the Security Council agenda included the topics of climate and security, arms control and international humanitarian law". Disarmament in particular is a prominent issue. All over the world, important disarmament agreements are coming under pressure, and new weapons systems, global rearmament and increasing great-power competition pose new challenges. This is why, during its chairmanship of the Security Council in April 2019, Germany took the initiative of putting disarmament and arms control – which for years received scant attention – back on the international agenda.
"German foreign policy takes a multilateralist approach"
All of these issues have one thing in common, Maas stressed: "German foreign policy takes a multilateralist approach. Only together will we be able to surmount the current challenges. Globalisation, the digital transformation, climate change and migration – all of these challenges truly know no borders. They require a borderless, joint and multilateral response." "Together with our partners, we wish to preserve, reform and further develop our rules-based order", said Maas – thereby setting an important objective for Germany's second year on the Security Council.
A preventive approach: averting crises, rather than reacting to them
Furthermore, the Security Council's focus should extend beyond merely preventing and reacting to crises. It should aim to defuse situations before they escalate. "That's why, next year, we will maintain our preventive approach", Maas said, adding that the topics of climate and security, disarmament and arms control, human rights and security, and international humanitarian law must be discussed in the Security Council.
Current crises: Libya, Iran and Syria
Of course, current crises will also be a key focus in the coming year. Libya, the Sahel, Sudan, Afghanistan, North Korea, Syria, Iran and Yemen will all be addressed by the Council. "We must admit to ourselves that not all impasses in the Security Council can be overcome", Maas said while citing the example of Syria. Yet he also made clear that "we will work to promote political solutions, in the Security Council and in other fora".
Multilateralism will be the main focus in 2020
This is already Germany's sixth term as a non-permanent member of the Security Council, through which it is once again assuming a special responsibility for peace and security in the world and the multilateral global order. In many respects, 2020 is a special year for multilateralism. In July 2020, Germany will for one month chair the United Nations Security Council while it also holds the EU Council Presidency. Foreign Minister Maas has the following to say: "This means that we will hold very special responsibility for the multilateral system – and it is a responsibility that we will fully execute in both Brussels and New York. We will maintain the close cooperation between Germany and France." 
Source: Federal Foreign Office