Humanitarian aid for Ukraine
Germany is supporting the victims of Putin's war in Ukraine, as well as refugees in German towns and municipalities.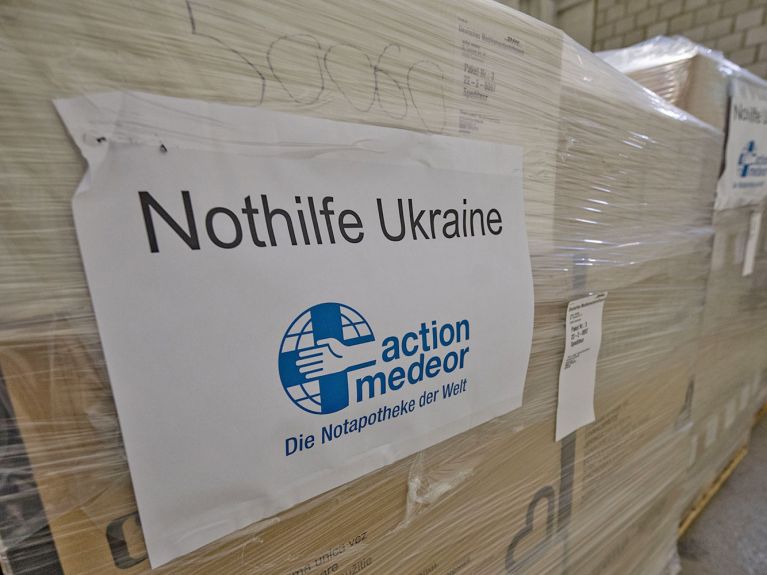 Putin's war against Ukraine is creating endless suffering. The humanitarian situation in Ukraine is worsening hour by hour. Many people, above all women and children, are attempting to flee to safe EU countries.
In order to make medical supplies and safe accommodation quickly available to Ukrainians, Germany immediately topped up its contribution to the UN's Ukraine crisis relief fund by five million euros when the war began. The UN Refugee Agency and the World Food Programme, as well as local organisations in Ukraine, can use this money to provide rapid help. Furthermore, Germany is making ten million euros available at short notice to the International Committee of the Red Cross, which is active in Ukraine and neighbouring countries. The German Red Cross (DRK) is also preparing comprehensive measures to help the population in Ukraine.
German towns and municipalities are ready to take in, provide for and integrate as many refugees as they possibly can. "Besides accommodation and subsistence, the measures that need to be put in place also include making school and nursery places available", said the president of the German Association of Towns and Municipalities. In addition, many citizens are offering accommodation or donating money and other much-needed items. Many companies and NGOs are donating money or providing help directly, for example by delivering medical supplies and medicines to Ukraine. One company in Frankfurt am Main is renting an entire hotel to accommodate refugees.
The Refugee Agency of the United Nations expects up to four million refugees as well as up to eight million more people who will be forced to leave their homes by Putin's war and will rely on emergency aid in Ukraine.