How Germany is supporting Ukraine
Germany has responded to Putin's attack on Ukraine with a tough package of sanctions and weapons deliveries.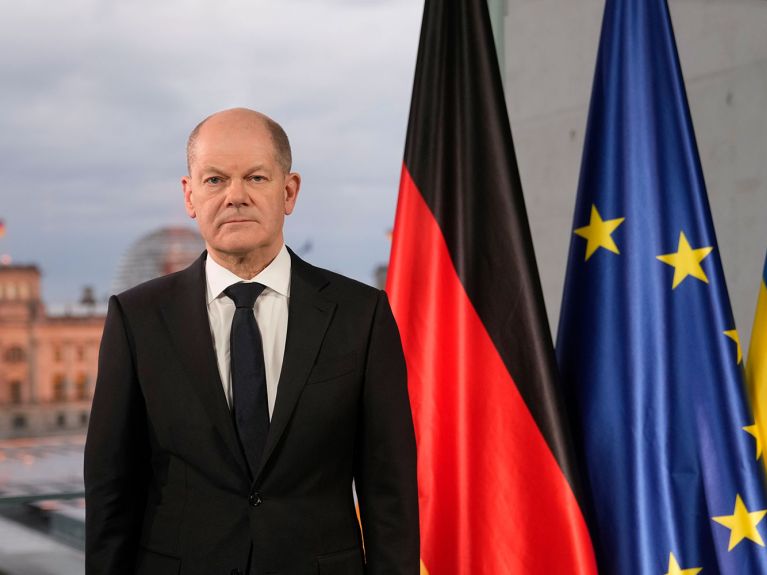 The German government has harshly condemned the attack on Ukraine and responded by implementing unprecedented measures. Together with its partners in the European Union, Germany has initiated a comprehensive sanctions package. Furthermore, the government has assured Ukraine of its full support and will also be supplying weapons to the country. At the same time, Federal Chancellor Olaf Scholz has held Russian President Putin directly responsible for the attack: "This war is Putin's war."
"We are experiencing a turning point"
During a government statement in the Bundestag, Federal Chancellor Scholz accused the Russian president of "cold-bloodedly unleashing a war of aggression". "We are experiencing a turning point", said Scholz, with the result that: "Afterwards the world will no longer be the same place it was before." Essentially, it is a question of "whether might should be allowed to violate right and whether Putin should be allowed to turn the clocks back to the time of the major powers of the 19th century, or whether we can muster the strength to set boundaries to warmongers like Putin". In a televised address to the public, Scholz had already held the Russian president directly responsible for the war.
"We must support Ukraine in this desperate situation"
Federal Chancellor Scholz and Foreign Minister Annalena Baerbock assured Ukraine of Germany's complete solidarity. "We must support Ukraine in this desperate situation", Scholz said during a special parliamentary session. The German government has therefore decided to supply Ukraine with weapons to help it defend itself. "No other response to Putin's aggression was possible", Scholz said. Foreign Minister Baerbock made similar remarks: "If our world is a different place, then our policy must also be different."
"Putin, not the Russian people, has decided to start this war"
In his government statement, Scholz also paid tribute to those in Russia who are protesting against Putin's actions, saying that Germany is also standing by the side "of all those in Russia who are bravely standing up to Putin's power apparatus and rejecting his war against Ukraine". Protests in Russian cities required "great courage and great bravery", he said. Scholz expressly stressed in the Bundestag how important it was to differentiate: "Putin, not the Russian people, has decided to start this war".
Unprecedented sanctions package intended to hit Russian economy
Following the attack on Ukraine, Germany and the EU, as well as the US and other states, have imposed sanctions. For example, Russian banks are to be excluded from the international Swift payment system with a view to cutting them off from international financial flows. Sanctions also target the Russian central bank, with further measures directed against the transport and energy sectors. Sanctions have also been imposed directly on President Vladimir Putin and Foreign Minister Sergey Lavrov. Any assets the two politicians may have in the EU are to be frozen.
Protection for Eastern European Nato states
Federal Chancellor Scholz made it unequivocally clear after the attack on Ukraine that Germany is "unconditionally" committed to Nato's principle of collective defence. "President Putin should not underestimate our determination to defend every square meter of alliance territory together with our allies", he said in his government statement. The Bundeswehr has already extended its support for the Eastern European Nato states. Nato has decided to relocate parts of its rapid response force to the east.
Significantly more investment in security
The German government intends to strengthen the Bundeswehr, massively increasing Germany's defence spending to this end. A one-off "special fund" of 100 billion euros is to be set up to benefit the Bundeswehr. In addition, more than two percent of gross domestic product is to be invested each year in defence. "It is clear that we will have to invest significantly more in the security of our country in order to protect our freedom and our democracy", said Scholz, describing this as a "great national effort".