Civilian support
The willingness to help Ukraine is great in Germany. We present three projects that are helping with good ideas.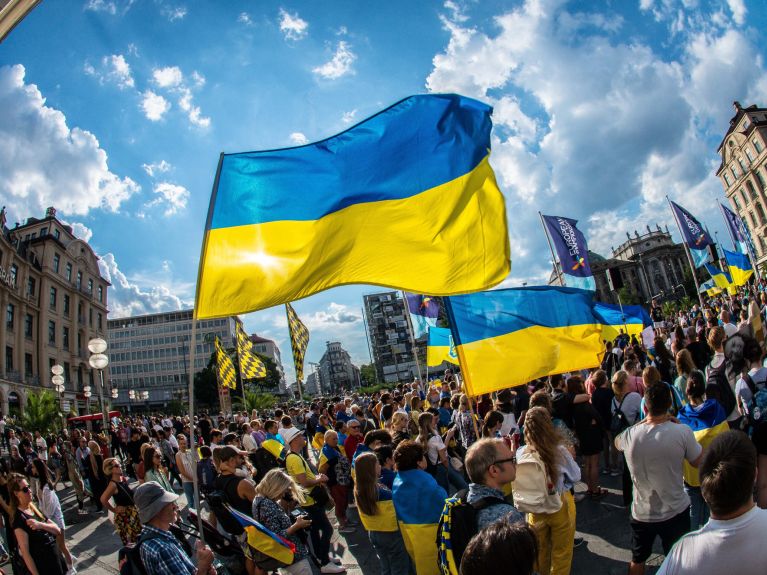 Three of many projects in Germany supporting refugees from Ukraine or people in Ukraine.
Workshop on four wheels
Because of Russia's war of aggression on Ukraine, many people from areas that are occupied or under attack by Russian troops have had to flee for safety to other parts of the country. The TOLOCAR project of the non-profit association CADUS provides materials and know-how to help build and plan accommodation. A team of craftsmen and women from Germany has been in a converted van in western Ukraine since May 2022. One of the projects: together with the Ukrainian NGO MetaLab, they are renovating a former hotel in Ivano-Frankivsk  to provide accommodation for thirty Ukrainian internally displaced persons. The name of the project ('Tolocar') alludes to 'Toloka', a form of solidarity support in Ukraine.
Ukrainians in Germany helping their country and compatriots
In Berlin, young Ukrainians have joined forces to support their compatriots. Under the name 'Vitsche' they organize protests, events and help for refugees. They also collect medicines, protective equipment and hygiene products, which they send to Ukraine. Anyone who needs help or wants to offer help can find information via Linktree on Vitsche's Instagram profile or the website .
Food for Ukraine
Germany also supports Ukraine with food. The donations from retailers and the food industry are coordinated by the German Food Bridge coordination office. It makes sure that donations reflect what is needed in Ukraine. The donors themselves organize the transport of their food to collection points in Poland with support from the coordination centre.
You would like to receive regular information about Germany? Subscribe here: