European blind date
Listen to what Europe has to say! "Europe Talks" is bringing together thousands of Europeans who look at key issues from different perspectives. You can join in, too.
Christina Iglhaut / 02.05.2019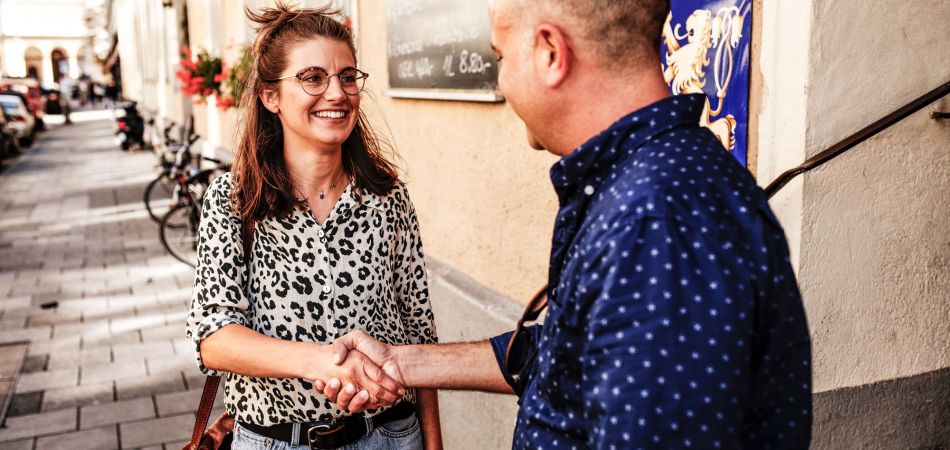 What do European neighbours actually know about each another? What does a Greek hairdresser think about long-term border controls in Europe, and what is a Polish businesswoman's opinion about a European passport? We often talk about Europe, but rarely about what affects us Europeans. The idea is to change this.
17,000 Europeans in conversation
To this end, "Zeit Online", the online version of a German weekly newspaper, has teamed up with 15 European media companies, including "arte.tv" in France and Germany, Bulgaria's weekly newspaper "Capital", the news websites "DELFI" in Estonia and Latvia and "De Standaard" in Belgium. "Europe Talks" is the name of the initiative: its goal is to bring together people who live in various European countries and have different political opinions. Over a period of six weeks, the media partners asked their readers to answer seven controversial questions relating to Europe – the same questions being put to everyone. Using digital questionnaires, more than 17,000 people signed up and shared their opinions. An algorithm was then used to identify "pairs" of participants with highly divergent views.
A conference of contrasts
At 3 pm on 11 May, these tandems will then talk to each other all over Europe – via a video call or during a face-to-face meeting. This day will also see the "Europe Talks" conference staged in Brussels, featuring music, panel discussions and conversations between European neighbours. Among those taking part will be 100 of the tandems, Federal Foreign Office Minister of State Michelle Müntefering, ESA astronaut Samantha Cristoforetti – and, if you want, you can also be watching live in Brussels. You have until 11 May, the day of the conference, to register and take part.
"Europe Talks" is being supported by the Federal Foreign Office in cooperation with the European Cultural Foundation, the Allianz Cultural Foundation and Stiftung Mercator, and in partnership with Interrail and the Bozar Centre for Fine Arts Brussels.
More information about the conference and how to register can be found here: http://www.zeit.de/europetalks-opening
Anyone interested in registering can log in using the access code "GUEST".